For over a century, Nyack has been the home of extraordinary artists from all the major disciplines such as: performance (Helen Hayes), visual arts (Edward Hopper), and literature (Carson McCullers). Local Arts Index, a new weekly feature on NyackNewsAndViews, will highlight the work of a local artist who continues our community's rich creative legacy.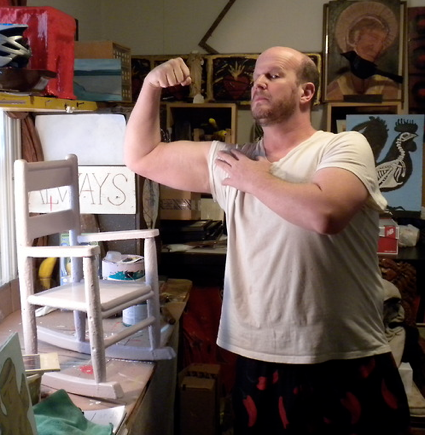 Peter Cheney came to Nyack in 1995.  He recently had a one-man show in the front gallery at the Rockland Center for the Arts (ROCA).  His next exhibit will be at P. Ross at 89 Main Street on March 15.
What kind of art do you make?
I paint. I make sculptures, (both carvings, and assemblages) and collages. The chair project has been the main focus of my recent work.  I built two chair shaped objects that I have painted every day for a year.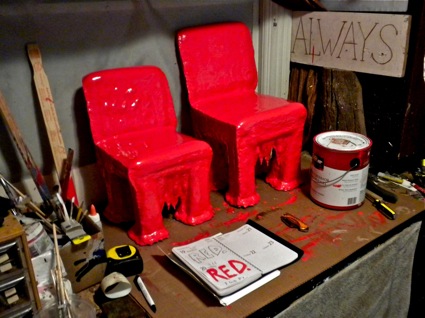 More than anything it was about having a daily discipline, sort of a challenge to myself to see if I could do something every day for a year. The smaller of the two chairs I recently cut in half.  It is on display at the Rockland Center For The Arts. I also photographed the chairs every day, and will be making some prints of those pictures to be displayed alongside the chairs.
What is your muse?
My artwork has never felt "inspired" so much as "driven". It's not something I understand at all, it's just what I do. For lack of better language to describe it, the feeling is more like an obsession, or a compulsion, not in a negative sense, but in the sense that it's just something that needs to be done. Maybe it's best likened to what people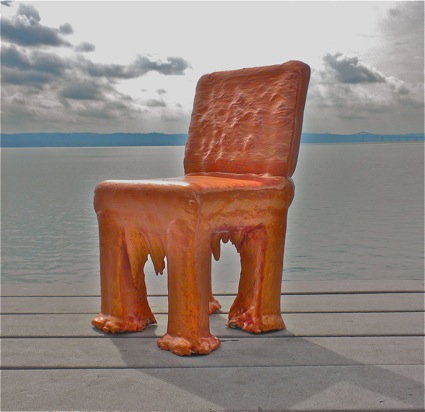 call competitive nature. Some people just feel a need to compete, to win. I don't have that. I do, however, have the need to make things, drawings, paintings, sculptures, no idea where this comes from, it's just like being thirsty, and needing a glass of water.
Do you have a message?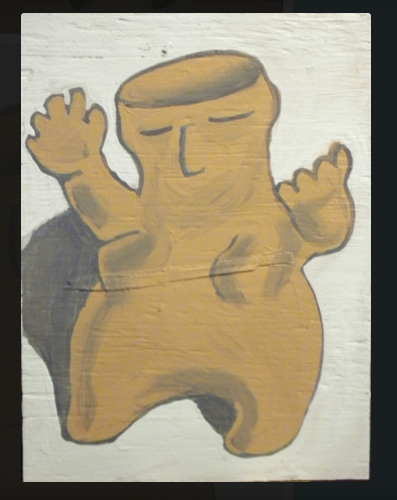 In some ways I am totally cut off from what is commonly referred to as "The Real World", always have been. I was barely able to stay in school as a kid. I was often confused and frustrated by whatever social norms I was supposed to be adhering to and have never been able to hold down a "real job" for more than a few weeks/months at a time.  It's often confusing, and amusing, to hear people talk about my work, and the meanings they ascribe to what I have done.  Sometimes they seem fairly insightful and sometimes it's clear that they are putting their own life experience into whatever it is they are looking at.
Curated by Bill Batson
Local Arts Index in sponsored by Maria Luisa, 77 South Broadway and ML Gifts & Accessories 75 South Broadway, Nyack, NY