For over a century, Nyack has been the home of extraordinary artists from the major disciplines such as: performance (Helen Hayes), visual arts (Edward Hopper), and literature (Carson McCullers). Local Arts Index, a new weekly feature on NyackNewsAndViews, highlights the work of a local artist who continues our community's rich creative legacy.
Elaine Schloss studied with California-born, Rockland County based artist Ken Nishi and at SUNY Purchase, NY, with Roger Hendricks.
In Oct. 2012, Schloss was juried into a group exhibit at Piermont Flywheel Gallery, where she won entry into a three person show the following Dec.  Schloss was also rewarded a full scholarship to the Art Student's League Artist-In-Residency program at the Vytlacil campus in Sparkill in June, 2012 .
What Kind of Art Do You Make?
I have been an artist all of my life. I am also an actor/singer and musical theater writer, which is why, perhaps, I love the drama of color and line.
Sometimes my work is realistic, sometimes I work in semi-abstract forms. But it has always been about the face and the figure, the emotion and the form…and color.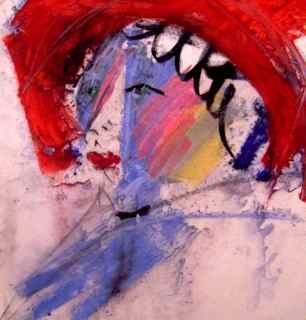 What is your Muse?
The Model.  No matter how abstract, I always work from life.  Like the audience at a play, I immerse myself totally in the emotion of the model and the pose. The result, on paper or canvas, is my giddy applause.
Once I saw a dance program at The Joffrey with a 'talk back' afterwards.  A woman in a wheelchair raised her hand and said, '€œwhen I watch you beautiful people dancing you would think I would feel sad, but instead I am elated '€I feel as if I am dancing with you!"
I think this is the definition of art, and so, likewise, I would hope that when people see my work they will experience the thrill I feel when the muse is moving through me.
What's Next?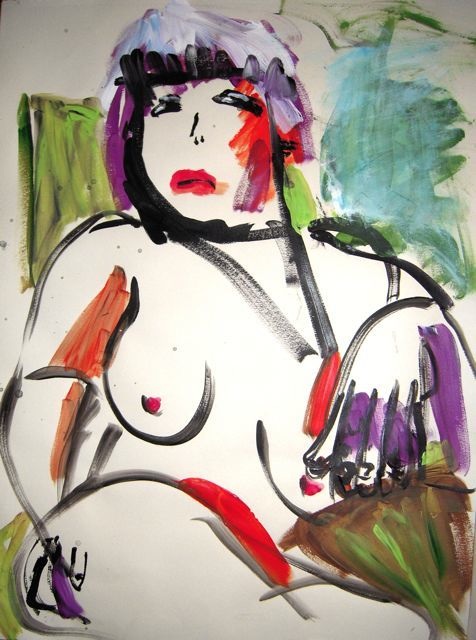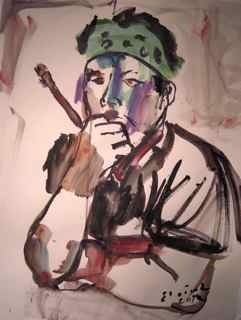 Although I've been painting all of my life; and have had some success showing and selling my work, I decided in 2012 that it was time to make art my focus.
Many years ago I went into an art supply store and accidentally spilled coffee on 15 vellum pads.  The owner was kind enough to sell me the pads (even then $50 each) '€¦ at cost.   Until then I'd used only pastel on paper.
Now I needed a way to use the pads.
So I began to experiment with oil pastel and pastel on the vellum.  Since the vellum has little '€˜tooth' I wash the paper with turpentine, which renders a powerful, emotional, sometimes tender, sometimes raw image —  and  I've been doing it ever since.
Elaine Schloss' paintings will be on display at the Nyack Library in March in connection with Women's History Month. You can see more of her work at elaineschloss.com
Curated by Bill Batson
Artist portrait photo credit: David Schloss
Local Arts Index in sponsored by Maria Luisa, 77 South Broadway and ML Gifts & Accessories 75 South Broadway, Nyack, NY