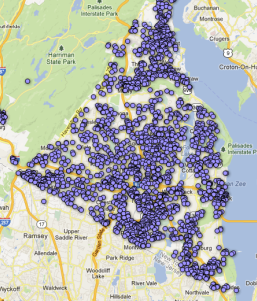 by Dave Zonow
Nyack, Jan 6 — It was a very long week — especially considering that it was only three days long. We fell off the Fiscal Cliff as New Years came and went only to be rescued at the last minute. New York and New Jersey were abandoned by Congress in their request to get Sandy relief funds, only to be resuscitated, partially, on Friday. And the Journal News' unhealthy obsession with guns just won't seem to go away.
Sandy Relief — Why Can't Republicans Just Be Friends?
NJ Governor Chris Christie, who gave the keynote address at the Republican Convention, didn't hold back in his criticism of Majority Leader John Boehner and the House of Representatives in his Wed remarks. This was the same Chris Christie who gave the keynote address at the Republican National Convention in August. However, by Friday, things were back to normal. In a "I can trust you only as far as I can throw you" kinda way:
"There is only one group to blame," Christie said. "The House Majority and John Boehner."  "Last night, the House Majority failed the basic test of leadership and they did so with callous disregard to the people of my state," he said. "It was disappointing and disgusting to watch.  Shame on you, shame on Congress."
"Our people were played last night as a pawn…and that's why people hate Washington, D.C. It was the Speaker's decision '€" his alone. Christie says he tried to call Boehner four times, but that the Speaker did not take his calls until this Wed Jan 2. "I won't get into my conversation with [Boehner], but I will tell you there is no reason to believe anything they tell me." — Source: BusinessInsider.com, 1/2/13
How will this hurt Christie's chances to be the GOP standard bearer in 2016? Not much says reader of the NJ.com. 16% say it will hurt his chances and 33% say it will help. But more than half say they don't care about the next presidential race.
On Friday, the House — responding to the severe beating administered by Christie, NY Governor Andrew Cuomo, and congressional representatives in NY and NJ, passed a $9 billion aid bill to help Superstorm Sandy victims. There's another vote scheduled for Jan 15 to approve an additional $51 billion for long term rebuilding. In a joint statement on Friday, Cuomo and Christie said this the $9 billion was only "a down payment."  "We must build on this success by passing the remainder of the robust assistance package that is needed for New York, New Jersey, and other states affected by Sandy," said Congresswoman Nita Lowey (D-Rockland).
Gannett's Unhealthy Obsession With Guns
This is something that both gun control advocates and defenders of the first amendment can agree: if you play with guns and shoot without aiming carefully, someone is going to get hurt. Which is pretty much what has happened to Gannett's Journal News, the dominant newspaper in Rockland and Westchester Counties. On the weekend before Christmas, in an effort to promote the conversation about gun control vs. gun rights after the Newtown Sandy Hook School shooting three weeks ago, the Journal News published a Google Map with the location  of all of the pistol permit holders in Rockland and Westchester.
On Thursday, the newspaper got some good news in the form of bad news when Putnum County NY, an adjacent county in the Journal News' coverage area, reversed a previous decision to release the names of pistol permit holders even through these information are in the public domain. "This is not about defending the issue of gun ownership in the aftermath of Newtown. This issue is strictly about the privacy and safety of our law-abiding citizens," said Putnum County Executive MaryEllen. It's good news for the Journal News because it means their self-inflicted wound can begin to heal while still giving the paper cover for "journalistic integrity."  "We take seriously our obligation to serve the residents of Putnam County and will aggressively pursue the community's right of access to public record information," said Janet Hasson, publisher of The Journal News Media Group. Hasson pledged to follow up and take legal action to get the names of the Putnum pistol permit holders.
You can't help but think this story was a huge journalistic blunder, aside from the obvious 1st vs 2nd amendment debate it created.
The Journal News violated the Number 1 unspoken rule of journalism, which is so screamingly obvious that it's never even discussed: because of their actions, they became the focus of the story. It's the journalistic equivalent of a football referee participating in an end zone celebration. Once you start noticing the unbiased reliable news source, they are neither unbiased or reliable.  (Admittedly, there are some consumers who like their news that way.)
No one else in the world of journalism has stepped up to their defense. Which is pretty damning considering how often journalists will leap to a competitor's defense when there is a first amendment issue at stake.
In addition to thousands of negative and hostile comments on LoHud.com — most of which come from outside of the Journal News' coverage area — they have been attacked by privacy advocates and politicians. Remember, this is happening to a company that loses a reader every time a hearse pulls up to the cemetery gates. Young people don't read papers. And the Gannett's short sighted strategy of placing a paywall on their online websites this Spring couldn't have helped — especially considering the business visionaries at Gannett don't allow people to buy only the online edition.
Will there be an advertiser backlash? You betcha. Print doesn't work the way it once did; and it could never provide the metrics that online publishers offer to prove that people are actually reading the stuff you print , much less actually looking at the ads. All of those car dealers and local retailers who have been advertising in print for years will start to question why they are spending on a publication which many of their customers despise. From an ad sales stand point of view, you don't want your advertisers questioning why they support you — or what they support says to YOUR customers about you. And all of this is happening as Newsday Rockland/Westchester, a credible and growing regional competitor which started in 2012, is available online for free to any Cablevision subscriber.
Which does leave you wondering — what *were* they thinking? Didn't it occur to anyone at the JN that this might go horribly wrong? Poynter.org, "a school that exists to ensure that our communities have access to excellent journalism,"  provided this analysis of the the Journal News' story:
The problem is not that the Gannett-owned Journal News was too aggressive. The problem is that the paper was not aggressive enough in its reporting to justify invading the privacy of people who legally own handguns in two counties it serves.

When I asked reporter Randi Weiner, who wrote a story about the criticism, how the news organization reached its decision to publish the information, she sent Poynter a statement from Journal News Publisher Janet Hasson: "Frequently, the work of journalists is not popular. One of our roles is to report publicly available information on timely issues, even when unpopular. We knew publication of the database (as well as the accompanying article providing context) would be controversial, but we felt sharing information about gun permits in our area was important in the aftermath of the Newtown shootings. Timeliness is not reason enough to publish this information, though there are important reasons '€" including public safety '€" that journalists regularly invade people's privacy."

— Al Tompkins, Poytner.org, 1/27/2012
Maybe, and the end of the day, this happened because it was the weekend before Christmas and all of the Gannett executives and corporate lawyers who would have usually said "WTF were you thinking?" before publication were busy holiday shopping. Or maybe it was a fascination with the technology offered by Google Maps that made them a little bit too zealous about breaking a news story. The JN could have just as easily made their point about "where are the gun permits in your neighborhood?" using those some gee-whiz maps while suppressing the detail that has enraged so many and only showing percentages of gun permits by zipcode or municipality. Which could have made their point about gun ownership without making the Journal News the point of the story.