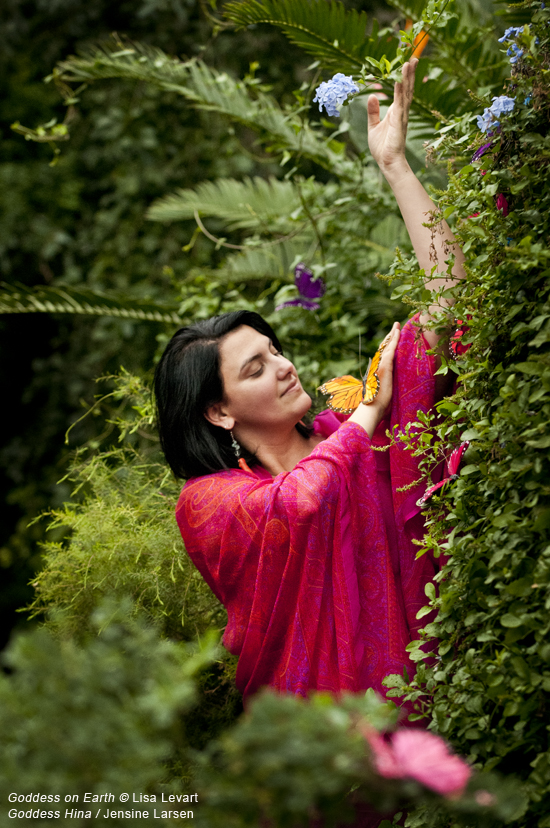 by Lisa Levart
This past October, in Grass Valley, California, over 400 women attended the Passion Into Action conference. With larger than life images of powerful and vibrant women from the Goddess on Earth series setting the stage, those attending learned tools to help them turn ideas into actions. During this animated weekend, it was again made clear to me how important it is to spend time with other likeminded women. Too often, we find ourselves isolated while immersed in our work, yearning for collaborative discussion and the opportunity to give and get support from others.
Jensine Larsen, who spoke at the PIA conference, has dedicated her life to creating more connection and community for women worldwide. As a young journalist traveling the globe, Jensine realized that women's stories and voices were rarely heard in traditional venues. Driven to bring these crucial stories to light, she created the web-based organization World Pulse, an interactive platform enabling women from over 190 countries to find their voice by speaking their stories in their own words, connecting to support each other, and taking action to change their worlds. World Pulse is truly helping to build a rising pulse of women's empowerment across the globe.
For Goddess on Earth, Jensine embodied Hina, a Goddess from Polynesian mythology that is associated with the moon and butterflies, among other attributes. Known as "the first woman," one of Hina's gifts to humans was the art of communication.
On a wet and rainy December afternoon in New York, we met at the Brooklyn Botanic Garden in search of a lush, verdant paradise. We found it in the Conservatory's Temperate Pavilion. On her choice of portraying Hina, Jensine wrote:
Hina spoke to me because she symbolizes the vocal uprising that is now occurring across the planet through the hearts and mouths of women — a phenomenon that is now speeding up through the power of the web. She is a messenger and a birther of fresh ideas. I relate to Hina because she delights in language as a tool and she uses words to inspire the masses. The butterfly represents transformation caused through communication. Hina always saw the future: that womenkind connected through media holds the power to transcend dying dictatorships and media monoliths that have been holding us in isolation and fear, and chart a new future for the people and by the people.
The delicate strength of the butterfly serves as a reminder that all of us, no matter how small or seemingly isolated, have the potential to effect immense change. The brush of small wings stirs up a tempest halfway around the world. The moon pulls the ocean waves across the distance of space. The memory of an ancient goddess, rediscovered centuries later, lends a young woman new inspiration.
Hina offers an alternative to feeling isolated or alone in the bustle of modern life and its complexities. She reminds us that when we speak our truth, we empower others to express themselves more fully. So let's take inspiration from Hina and from Jensine Larsen, whose dedication to raising up women's voices continues to open up new avenues of communication and community, so that — as soft as the butterfly's wings, as powerful as the roaring ocean waves — we can more fully recognize the pulse of women worldwide.
Lisa Levart is an award winning photographer whose images have appeared in numerous publications and exhibitions worldwide. Her book of portraits, Goddess on Earth, received the GOLD Nautilus Book Award and features many women from the Rockland area. Goddess on Earth can be purchased at Saffron and Sanctuary in Nyack, The Outside In and Ned Kelly & Company in Piermont and online at GoddessOnEarth.com.