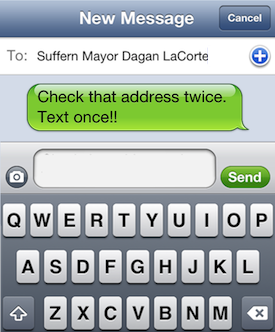 by Dave Zornow
Most of the time when rivals text something bad about each other, parents exchange phone calls and students get called into the principal's office. But when political rivals send nasty texts — they get called out in the media.
Suffern Mayor Dagan LaCorte, a candidate for Rockland County Executive, sent a text to his campaign manager about Justice David Fried, who is also running for the job. But LaCorte accidentally sent the text about Fried, to Fried.
"I want to address a significant error I made this weekend.  I wrote a text to my campaign manager asking him to approach one of my opponents, David Fried, and record his responses to questions about his stance on marriage equality and the proposed United Water desalination plant.  I also told him not to identify himself as my Campaign Manager when asking these questions," said LaCorte in a statement on Thursday night. "He was rightfully shocked and disappointed in what I wrote.  And so am I.  I made a mistake and I take responsibility for it.  I violated my own standards of conduct and compromised the issues based campaign I aspire to lead.  There is no excuse, explanation or justification, and I'm very sorry."
Newsday Rockland/Westchester reported the content of the text: "Record fried on phone /- gay marriage, deal. $$$ he can't raise — spy early bc Chris smith will tell him who you are. I'll check in later for recon. Get names and emails."
In the funny way that politics works, this might be a win-win for everyone. Last week, LaCorte's campaign announced that they had raised $375,000 since July — more than any of the other contenders for Rockland County Chief Executive. That earned a ringing endorsement from the Rockland County Republican Chairman Vincent Reda, in the form of a condemnation and a call for LaCorte to drop out of the race.  (There's nothing like the leader of the opposition identifying the strongest rival implying he's the guy that Republicans are most afraid of running against). Fried, whose campaign has been low profile compared to LaCorte's showing to date, got both good press for his measured response to his opponents gaff as well as sympathy for having been unjustly attacked.
This is the second time the Rockland County Executive candidates have been in the news this week. On Monday, Rockland County Legislators Ed Day (R) and Ilan Schoenberger (D), joined Fried and LaCorte publishing their views on gun control on NyackNewsAndViews.
LaCorte's text mentioned Christopher Smith, who is a candidate for Orangetown Receiver of taxes. "When I first saw the text, I just didn't understand why I was being outed as someone who was basically being a snitch," said Smith, who says he remaining neutral in the county executive race.  "It's unfortunate that people stoop to these sort of behind the scenes conversations. We need to focus, the focus of the county executive candidates should be on fixing the county, not on who is going to rat who out or spying on candidates, trying to get their position. Our county is in a real mess and I want to hear ideas from all candidates. We're $100 million in debt. Taxpayers want to hear answers on how the candidates are going to fix the county's financial mess not this childish nonsense. "
See also: