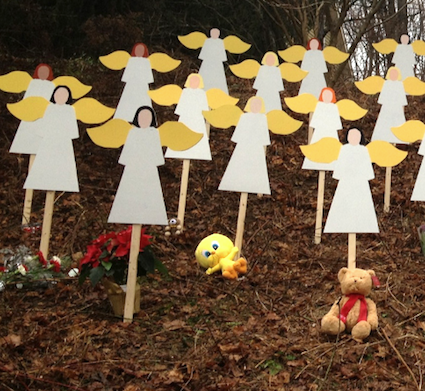 by Jennifer Hausler
The following commentary, originally published on Nyack Backyard on December 19, reminds everyone who speaks passionately about the need to protect the rights of gun owners, that we also have an obligation to be sensitive to those who still grieve over the tragedy in Newtown only three weeks ago.
Since last month's tragedy in Newtown, it's been harder to let the kids out of the house. The instinct is to keep them under lock and key, but every morning we have to open the door and let them go.  To the movies, to the mall, to walk to the bus stop in the dark.  Like many parents, I'm trying to wrap my head around this and figure out how it will impact my family.   At this age, it is less about trying to shield them from the news. It's mostly about answering questions like "Why did that mom have a gun?"  '€œWould you ever get a gun?'€   "Did he know any of those kids?"
These are some of the darkest days of the year, and this year sad circumstances have accumulated around me to make the days seem even darker than usual. Long ago, the ancients thought the sun was leaving them, getting farther and farther away. Each year they feared that it would never return. It's no coincidence that the holiday season falls during the time when the ancients realized the sun was coming back.
CT Governor, Rock Co Legislators
Respond to Sandy Hook
In Connecticut, Governor Daniel Malloy on Thursday appointed Hamden, CT Mayor Scott Jackson to chair the Sandy Hook Advisory Commission. Malloy said that although Connecticut has some of the toughest gun laws in the nation, "we can do more." Regarding gun laws nationally, Washington needs "to get its act together," he said. "You don't need a 30-round clip to go hunting or to honor the Constitution of the United States," Malloy said. — Source: USA Today 1/4/2013
In Rockland County, five county legislators will hold a 10:30a press conference today to propose keeping pistol license application information confidential in response to a Journal News story two weeks ago which included the addresses of pistol permit holders in Rockland and Westchester Counties.
Rockland County Legislators Frank Sparaco, Jay Hood, Jr., Aron Wieder, Toney Earl and Christopher Carey will announce support of proposed state legislation to amend the penal law in relation to the confidentiality of information contained in an application for a pistol license.
— Source: Rockland County Legislature.
We spend so much time trying to teach our children that violence is wrong — that loving each other is the reason we're all here on this earth together.   We want them to know that love is our highest purpose.  That to feel  it is a blessing, and to express it is a gift, not to be taken for granted. Yes, we can teach them to accept that some people have disabilities that make it hard to cultivate love, or express it.  Acting out in anger is something we struggle with daily as a family.  But it's impossible to explain  how someone could face a blackness as dark as what prompted the terror in Newtown.
Have you ever heard the saying that a broken heart is an open heart?  Right now it feels like the country is joining hands,  praying for the love in our hearts to pass from one hand to the next.  I'm hopeful that those grieving find their way out of the darkness and are touched by returning light and love in the coming weeks and months.
Jennifer Hausler writes the Nyack Backyard blog.