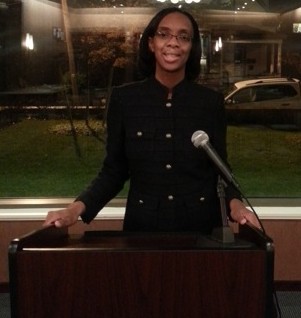 Dr. Lori Martin,
assistant professor of Africana Studies
at John Jay College of Criminal Justice.
Photo Credit: Jim Hershberger

by Alice T. Crowe
Despite the election of the nation's first black president, civil rights gains, and advances in education, the gap between whites and blacks in wealth building is widening and the racial divide is enduring says Dr. Lori Latrice Martin, assistant professor of Africana Studies at John Jay College of Criminal Justice. Martin, who lives in Nyack, makes the case that blacks lack those assets necessary to sustain individuals, family for a specified time if an economic or health crisis should occur or some other unexpected event. She pulls no punches in pointing out some of the root causes for the racial divide in America in her new book, Black Asset Poverty and the Enduring Racial Divide.
Using research primarily focused on New York City, Martin presents census data collected before and after the Great Recession, various reports and the 2008 presidential election. Martin analyzes individual households, in New York City neighborhoods with substantial diverse black populations. She highlights successful attempts to aid in wealth building and the accumulation of assets through specific programs in New York City.
Dr. Martin examines the root causes why blacks have been unable to move ahead economically. Inspired by the book Black Wealth White Wealth, A New Perspective on Racial Inequality by Melvin L. Oliver and Thomas M. Shapiro, Martin adds to the dialogue of scholars who attempt to explain the disparities between white and black wealth. She sets herself apart from Shapiro and Oliver in that her research analyzes the effects of ethnicity and gender on black asset poverty. Martin breaks down wealth inequality within the black community by looking at asset poverty for blacks from the Caribbean and Africa.
This book is well written and thoroughly researched. Martin fills the void between limitations identified in previous studies such as Eugene Robinson in his book Disintegration, The Splintering of Black America. Martin disagrees with Robinson, a Pulitzer Prize-winning newspaper columnist and the former assistant managing editor of The Washington Post, who says race distinctions are in decline in America. Robinson argues that there is no need for a black agenda because there are now four black Americas divided by class and ethnicity. Martin says this is a fallacy that lacks validity.
Black Asset Poverty and the Enduring Racial Divide is a counter-argument to the idea that blacks are splintered. Martin offers hard facts and data of how historically blacks who have transcended poverty have historically held concern over the plight of other blacks less fortunate. Black elites have been the vanguard for establishing critical social and cultural intuition's in response to racism and segregation.
Dr. Martin argues that racial wealth inequality and black asset poverty is a product of historical legacy in America. Martin supports her argument in the context of significant periods in American history including antebellum America and the era of Jim Crow, historical institutional practices that privileged some groups at the expense of other groups. For example, in New York, the New York State assembly passed an Act in the early 1700's to prevent blacks from owning property that remained in effect until the 1800's.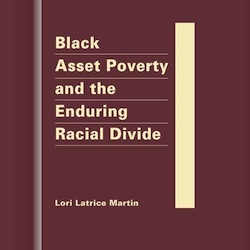 She makes the case that despite the election of President Barack Obama, blacks still remain asset poor in America.
While there are credible scholars who contend that the failure of some blacks to attain wealth is due to a lack of education, Martin strikes down that argument by demonstrating through case study that formal education historically had little or nothing to do with acquiring significant assets in America.
Martin cites at least two significant examples of wealth builders who had little or no formal education, Cynthia Hesdra and John Jack Johnson.
John Jack Johnson is an example of an aged black with little or no education who amassed great wealth. Martin suggests that researchers must understand how patterns of asset accumulation might differ for certain groups. Jack Johnson had little or no formal education and came to amass assets that enriched the lives of his immediate family and the communities in which he lived and worked.
Johnson was able to purchase 14 houses that he rented out to economically disadvantaged for very little or no cost. Johnson was a carpenter's helper and learned to build and repair homes. Johnson was able to bring more than 100 families from Mississippi to New York in search of a better life. He is credited with producing a community of lawyers, teachers, medical technicians, and business owners.
Cynthia Hesdra, a wealthy New York City black business woman and property owner who accumulated over $100,000 during the 1800's, is the subject of an earlier book published by Martin, "The Ex-Slaves Fortune: The Story of Cynthia Hesdra." Edward and Cynthia Hesdra were two of the wealthiest blacks in Rockland County before the 1900's. One of Hesdra's houses located in Nyack was believed to be a refuge on the Underground Railroad. Dr. Martin was instrumental in having a street named after Cynthia Hesdra in Nyack New York.
The importance of Martin's contribution to the public debate cannot be overstated. This book offers tremendous implications for social policy. It lays a framework to challenge blacks to construct an agenda toward wealth building and asset accrual for the future. Black Asset Poverty and the Enduring Racial Divide is published by Lynn Reiner Publishers.
 Alice T. Crowe is an attorney and playwright in Nyack, New York.