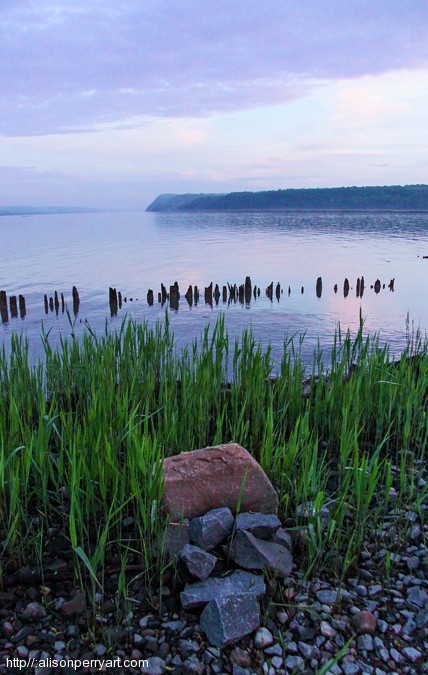 by Alison Perry
Rock Cairn along the Hudson is an image of tranquility with a bit of mystery. It evokes a feeling for nature and geologic time in the midst of things man leaves behind. Walking along the river in Piermont on a recent spring evening, I noticed a small pile of rocks that looked like they had been placed by someone, perhaps as a marker of sorts, perhaps in remembrance. The rocks suggested a connection to the Palisades Cliffs, there in the distance, so I attached a wide angle lens to my camera and knelt down to bring the two rock formations closer together in my viewfinder. The low green marsh shoots along the waterfront would hide the marker in another week or two, but right now they complimented the lavender clouds at twilight reflecting in the smooth water. Just offshore from the long narrow peninsula I was standing on, (once known as the Erie Railroad Pier), decaying dock remains poked above the rising tide. Part of an embarkation station, the man made peninsula was built 35 miles north of NYC. It was used to board military personnel onto naval ships bound for Europe and North Africa during WWII. Perhaps the rocks marked the spot where someone's son or husband had departed.
I hadn't shown Rock Cairn previously because it had bothersome technical issues, but after research I discovered the problem might be useful to share with readers. A photographer friend told me years before to pay attention to the lenses I choose since they're more important than those really sleek, sexy black camera bodies, to which I reply, I agree! Give me great lens optics with built in sharpness and speed but with as little or no barrel distortion or chromatic aberration as possible, thank you.
Chromatic aberration became apparent in this image during post-processing. Initially, I didn't know what it was, or that there are two types, longitudinal and lateral, but I could see both effects when I used the lens under certain lighting conditions. I learned it is the by-product of optically inferior lenses and that both aberration types can exist in one lens. My particular lens was a Canon wide angle zoom. I also learned the problem used to occur on acetate film and that stopping down the lens helped to eliminate the problem longitudinally, but lateral aberration can only be eradicated with post-processing software. After spending far too much time alleviating the problem in Photoshop, I made the decision to purchase a better lens.
A picture from Wikipedia Commons on the right demonstrates an extreme example of chromatic aberration. It occurs when the different color wavelengths are not accurately calibrated to match the dispersion characteristics of the lens optics. The lens fails to focus all colors to the same point of convergence longitudinally and/or laterally.
Longitudinal aberration occurs when the varying color wavelengths line up along the same axis within the lens, but don't meet at the same focal point – more like in front of or behind one another. This type causes loss of overall image sharpness, which is very noticeable in the bottom image. Lateral aberration causes color fringing. Color wavelengths line up along the same optical plane, but don't meet at the same axis point – they align side by side. If a lens has lateral aberration, it will become very noticeable with certain subject matter and under certain lighting conditions, especially in steep angled morning and late afternoon light. In Wikipedia's example, a bright cyan blue line manifests itself along the top right side of the building.
Professional camera lenses are generally more expensive than standard consumer lenses. If quality is important, purchase a better lens, the faster the better. The Canon wide angle I was using came as a package deal. At the time I wasn't shooting professionally. If you are photographing landscapes with a lens that has either or both types of chromatic aberration, use a tripod and long shutter exposures with small lens openings or F-stop apertures. This will help eliminate longitudinal chromatic aberration while insuring sharpness through increased depth of field. You'll still have post-processing work to do if your lens also has lateral aberration, but not as much.
See also:
Alison Perry owns a Nyack-based photography business that combines architecture, landscape and formal space and strives to make personal art about time and place. Imagery is for sale through her website. She received BFA in Studio Art from SUNY Purchase and a graduate degree in Library Science from Long Island University. Previously, she worked in journalistic and editorial photography for several different national/regional newspapers in NYC, PA and CA. See examples of her work at alisonperry.photoshelter.com/index