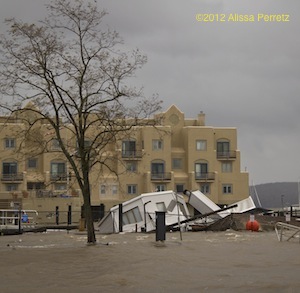 To help ease the pain of post-Sandy recovery, the Village of Nyack has suspended all permitting fees for work related to damages caused by the superstorm that struck Southeast New York and New Jersey on Oct 29.  Nyack's residents and businesses were severely impacted by flooding, wind-blown debris, downed trees and loss of electricity in addition to lost business for merchants and lost wages for residents.
Permits are still required for changes to residential and commercial structures including main buildings, garages, additions, decks, porches, sheds, boatyards plus seawalls, bulkheads, pilings, docks and other marine structures. However, all fees related to building permits and other similar permits, including electrical and plumbing related to these repairs are suspended without penalty or interest through and until May 1, 2013.
What's a Permitting Fee?
Nyack's Building Department issues building permits and uses inspections to ensure that all codes are followed to protect the public health, safety and welfare as they relate to the construction and occupancy of buildings and structures. Building fees are used to help reimburse the village for the costs associated with review of plans and inspections.
Suspending permitting fees to help expedite the repair and restoration of the damage caused by a natural disaster is unprecedented. "Nyack's Village Board realizes that many of our residents and business are still in recovery mode. The last thing people need is to pay for permit fees to repair storm-related damage," says Nyack Trustee Doug Foster. "What we have done is rather unique – only Yonkers and Mamaroneck have taken similar steps toward post Sandy recovery efforts," he says.
Once a building or other permit is issued, Nyack's Building Department will indicate that the fees for the permits will be suspended until the applicant provides proof of reimbursement from FEMA and/or the applicant's insurance carrier to the Building Department or until May 1, 2013, whichever comes first. After the completion of the necessary inspections and the permits are closed out, the applicant shall provide the necessary proof of reimbursement to the Building Department. If the applicant has not received reimbursement, the applicant will provide proof of this non-reimbursement and either pay the required fees within 30 days or request that the Board of Trustees waive such fees. Any payment of fees shall be suspended until the Board of Trustees makes a decision on such request.
Photo: Boat House After Hurricane Sandy ©2012 Alissa Perretz