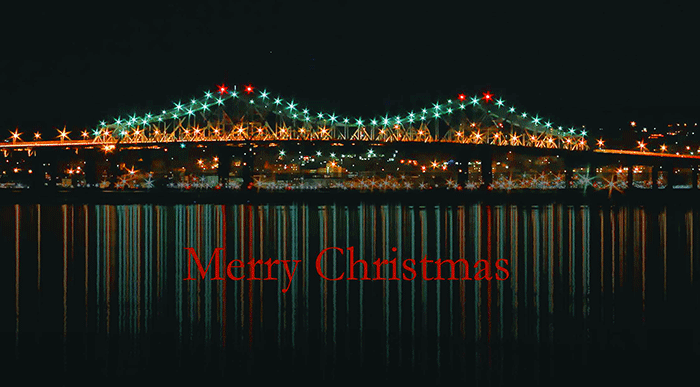 by Dave Zornow
Nyack, Dec 24 2012 — This recent photo of the Tappan Zee Bridge is both silent and still, a perfect metaphor for the night before Christmas. It was taken by local photographer Alison Perry during that brief period between the tides on the Hudson when the water is still and the reflection of the lights on the river is perfect. It's a fitting image for a special night. It's also a scene which we are unlikely to see again on Christmas Eve.
Our beloved Tappan Zee Bridge may be a holy place for some. But in the eyes of the NYS Thruway engineers who spend $50 million each year to maintain it, it's also a holey place, one that will soon be replaced.
In 2013, the serenity of this scene will disrupted by the barges and pile drivers needed to build the Northern span of a new TZB. When that span is complete, the 1955-era Tappan Zee Bridge will be torn down to make way for a new Southern span.
There are lots of things wrong with the current bridge — many of which can't be fixed. It has no shoulders. Because of limited capacity, it can only be repaired at night, work which is both slow, expensive and traffic snarling. Maintenance costs continue to rise. And it has an above average accident rate. The case for a replacement bridge has been made, a design has been selected and no doubt Governor Cuomo will announce a plan to fund it sometime early next year.
As a friend of who works in public service likes to say, "Change is hard," whether that change is good, bad or in between. It's time to build a new bridge, but we will still miss our old friend and the amazing views that she has offered us over the past 57 years. Happy Holidays, Tappan Zee Bridge.
Photo: Tappan Zee Bridge at night. Credit: ©2012 Alison Perry