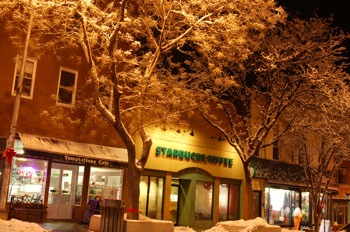 by Owen Voutsinas-Klose
Last weekend, flush with cash after being paid to babysit my brother and sister who are 5 and 9, I went holiday shopping but not the usual way: I did all my shopping locally.  I don't shop for many people, just for my mom, dad, two siblings and teachers.  My first stop was Sign Of The Times, the awesome toy store on Main Street.  I was able to buy three items for my brother and sister that they would greatly enjoy and only spend $20.  I bought my sister a notebook and a pack of 10 colored pencils and only spent $10.  I then bought my brother a voice changer toy where you talk and it changes your voice.  That was $10, too.
The next store is probably my favorite store in Nyack.  The European Chocolate Shop on North Broadway was open and I went in.  They had just what I was looking for.  In the corner was a basket that said " Teacher Presents  $5.00."  I picked up four and went to the register.  The kind owner gave me a candy cane for being such a good customer.  The four chocolate gifts perfect for teachers were $20.
The final stop was to Gypsy Donuts for hot sauce.  This is for my dad.  I don't know why they sell hot sauce at Gypsy Donuts but they do.  I know this because I have seen it there before on one of my couple visits.  It was Strawberry Habanero, which sounds bad to me but it also sounded like something my dad might enjoy.  Anyway, after spending $5 on a bottle of hot sauce at Gypsy,  I was done with my holiday shopping with $5 to spare. I was running out of time so I headed home and wrote a card to my mom with a $25 gift card for any of my services (babysitting, snow shoveling, etc. ).
I was able to fulfill my holiday shopping, getting high quality items that my teachers and family will greatly enjoy, not break my budget, get unique items that you can't get in the mall and, shop for the holidays completely local, putting $45in the local economy, not in a Target shareholder's bank account.  Any last minute holiday shopping needed to be done, should be done locally.
Owen Voutsinas-Klose is a student at Nyack Middle School.