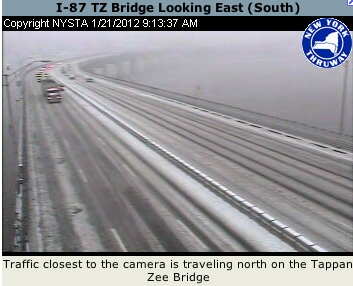 In Germany, it's used as a sandwich spread and a sweetener for sauces. You can also find sugar beet juice on the New York State Thruway, but isn't available in the rest area restaurants.  With more snow forecast for Saturday, Thruway road crews will be applying an anti-icing mix of sugar beet juice and brine to pre-treat roadways before the snow begins to fall.
The mixture is both eco-friendly and economical, too. In some instances, the pre-treating can be done during normal work hours thereby reducing the need for staff overtime. And because this molasses-like mix has a lower melting point than rock salt, there's less salt on the roads and less wear and tear on the pavement and the vehicles that ride on it. Excessive amounts of salt can seep into the water supply causing problems for humans and fish. This is a case where less salt is good for everyone's diet and pocketbook, too.
Thruway Authority and State Police officials encourage motorists to follow these cold weather safety tips:
Keep your fuel tank at least half full at all times.
Remove all ice and snow from windows and vehicle surfaces before starting your trip.
Keep an emergency kit in your vehicle, including blankets, gloves, hats, flashlight and extra batteries, a shovel, sack of sand, non-perishable food, water and any needed medication.
If you find yourself behind a snowplow, stay there until it's safe to pass.
Be alert and allow extra distance between your vehicle and others. Remember that a snowplow driver has a limited field of vision, so stay back at least 15 car lengths until you're sure it is safe to pass or until the plow pulls off the road.
Use your headlights, as required by law.
In case of an emergency, breakdown, or minor accident, motorists are reminded not to stop within travel lanes. For Thruway assistance, tie a cloth to the driver side mirror and wait in the vehicle. Should an emergency occur, motorists are advised to call either 911 or the Thruway Statewide Operations Center at 1-800-842-2233.
'€œUsing the beet brine mixture to pre-treat roadways is just one example of how the Thruway Authority maintains one of America's safest and most reliable superhighways even as we find new and better ways to control costs,'€ said Thruway Authority Chairman Howard P. Milstein. The de-sugar beet mixture will remain as a liquid down to 30 degrees below zero.
It's estimated the 600 Thruway employees who provide winter maintenance this winter will use 180,000 tons of rock salt, including 50,000 tons of pre-treated salt, 175,000 gallons of salt brine and 50,000 gallons of beet brine mixture. The American Chemical Society Website cas.org describes de-sugared sugar beet molasses as a "a waste product created when sugar beets are used to make commercial grade sugar."
Wikipedia says the unrefined sugary syrup, produced directly from sugar beet, is a treat in Germany. "This thick, dark syrup is produced by cooking shredded sugar beet for several hours, then pressing the resulting mash and concentrating the juice produced until it has the consistency similar to that of honey. No other ingredients are used. In Germany, particularly the Rhineland area, this sugar beet syrup (called Zuckerrüben-Sirup or Zapp in German) is used as a spread for sandwiches, as well as for sweetening sauces, cakes and desserts."