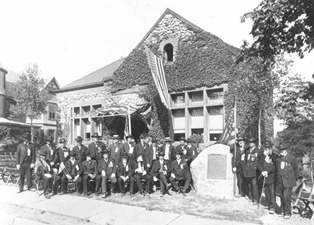 by Brian Jennings
That big rock in front of the Nyack Library is a piece of American history — and there's a letter from a president's son to prove it.
The Nyack Library has placed on exhibit a letter dated May 8, 1911, from Robert Lincoln, President Abraham Lincoln's son, to Charles M. Montgomery, Patriotic Instructor of the Waldron Post, No. 82, Grand Army of the Republic (GAR), upon the occasion of the dedication of the Library's Lincoln Memorial Boulder. In the letter, Lincoln's son expresses his gratitude to the children of Nyack for their having raised the funds to erect the Lincoln Boulder upon which an inscribed plaque contains the Gettysburg Address.   The original publication which accompanied the dedication of the Lincoln Boulder has been digitized and is available to view or download from the library's digital collections.
Additional treasures from The Nyack Library Local History collection are on exhibit as well including a letter from John Ruskin to local artist J.H. Hill, stereo cards, books and drawings from beloved children's authors Berta and Elmer Hader, historic postcards, and much more.  These items will remain on exhibit through January 31, 2013.