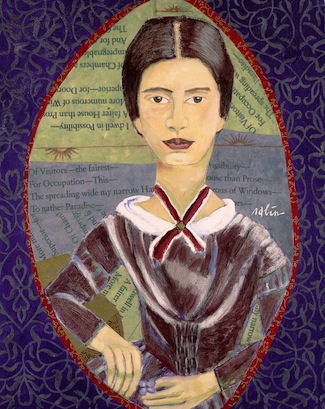 Literary, cultural and art fans need only to make their way to the Nyack Library through this month to see a triple play of smart culture. "Cross References," an art exhibit by Natasha Rabin, includes works all of which are cross-referenced with books, films, and recordings in the library's collection. Rabin collaborated with the library's departments to prepare a list of titles that viewers can take with them, enabling them to check out resources related to subjects included in her show.
A portrait of Alice Liddell has, in the past, generated questions regarding the young girl depicted by Rabin, which now are readily answered via the library's books about Lewis Carroll's muse for Alice in Wonderland. A portrait of Toni Morrison will be delighted to learn the diversity of works that are available at the Nyack Library by and about this local Nobel Prize Laureate. In addition to her novels, essays, Nobel Prize Lecture, children's books and a libretto for an opera about the slave Margaret Garner, who inspired her to write Beloved, there are critical essays and videos about Ms. Morrison as well.
Also included in the exhibit are portraits of Frida Kahlo, Rosa Parks, Julia Child, Billie Holiday, J.K. Rowling, Emily Dickinson and 12th Century Benedictine Nun Hildegard von Bingen.
In addition, there is a collection of collages inspired by international music forms and a series of '€œcritters'€ celebrating the children's library room.
Both original works and fine art prints in the show are for sale, as well as posters of the '€œcritter'€ paintings. To encourage the gift of art to children for the holidays, posters will be half-price for the duration of the show. The artist is also providing a seasonal discount on other works purchased during the month of December.
To check Library hours of operation and other events go to: www.nyacklibrary.org. For more information about the artist visit NatashaRabin.com.
Image: Emily Dickinson, mixed media. ©2012 Natasha Rabin