"Let Your Virtual Vote Count"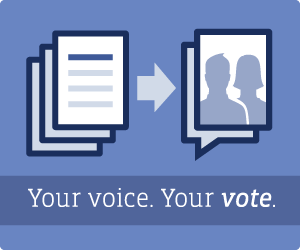 by Julia Dunnigan
With one billion worldwide users — representing 1/7 of the population of the planet— Facebook is the largest social media site on the Internet. So, chances are, if you're reading this, you're probably on Facebook.
Considering how much most people depend on Facebook to stay up to date with everything in their lives, you also probably care about having the site run as efficiently as possible. To help do just that, Facebook recently announced some changes to its site.
The company is updating its Data Use Policy and Statement of Rights and Responsibilities (SRR) to better ensure the safety of its users and keep them informed of changes to its services. Basically, Facebook is making sure its users can easily stay up to date with all of its updates.
What is unique about these updates, which Facebook is calling a '€œSite Governance Process,'€ is that FB is giving its users a chance to vote on whether they want these changes to be implemented. Users can go to the Facebook Site Governance Vote to have your say about staying with the old Data Use Policy and SRR or bringing in the new changes.
Facebook users can vote to keep the current policies or endorse the new rules until 3p EST on Mon Dec 10 by visiting the Facebook Site Governance Vote page.
If you have a FB login, you should have also received an email about the updates, too.
Just like that vote back on the first Tues in November, this is your chance to use it — or lose it. At least until 3p EST Monday.
See also: