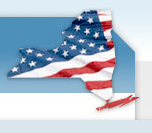 Much like the post office, neither wind, nor rain nor a once in a hundred year hurricane will keep Tuesday's election from being held. Rockland's Commissioner of Elections Ann Marie Kelly says polling places will be ready to go on Tues Nov 6. Polling hours in New York State are 6a-9p.
"There is no necessity to make contingency plans for Tuesday, November 6, 2012 because we do not need electricity to vote," says Kelly about Rockland's  ballot scanners which have a built-in battery backup. "The voter will just sign the poll book, be given a paper ballot to complete and if we do not immediately have electricity at that moment the ballot will be stored in the locked Emergency Ballot box." Kelley says the same procedure is followed if a machine breaks down when a voter tries to scan their ballot.  The Emergency Ballot box votes get scanned later with bipartisan observers.
Want to vote but don't know where to do that? The Rockland County Board of Elections
Polling Place Lookup page
will tell you where to go. And if you need to see a sample ballot for Nyack, we've got your pre-election pdf
Right Here
.
Kelly says that as of last week, the Board of Elections expected to have every polling place open except one. Clarkstown voters in districts 40, 53, 60 and 69 who were scheduled to cast their ballots at Woodglen Elementary School will now be voting at the New City Elementary School because of extensive damage in the driveway and the parking lot of Woodglen School.
If you can't get to the polls or can't spare the gas, there's a Democrat and a Republican who want to help. Rockland County Democratic Chairwoman Kristen Zebrowski Stavisky says if you need a ride to your polling place, email RocklandDems@gmail.com or text 917.312.8939. And representing the Republicans, Nick Del Pizzo says you should call 845.282.1196.
MIA on Tues? There's still time to file an absentee ballot!

New York State residents can call 1-855-NYS-SANDY (1-855-697-7263) with questions about voting, poll site changes and absentee ballots.

Voters and poll workers can also check the NYS Board of Elections Website for up-to-the-minute poll site changes.

Voters may still go to their local board of elections and cast an absentee ballot in person on Monday, November 5; completed absentee ballots must be postmarked no later than Monday November 5 or dropped off at the appropriate Board of Elections before 9 pm on Tuesday, November 6. Source: Elections.NY.gov
See also: