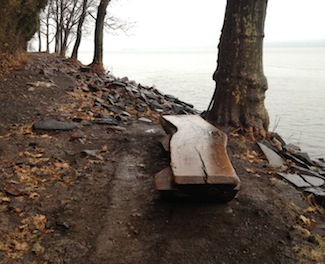 Nyack, Nov 27 — About 30 volunteers and fans of Nyack Beach State Park braved the inclement weather on Tues to help clean up the mess that Superstorm Sandy left behind.
"A lot was done today," said Timothy Englert. "The London Plane trees all got new topsoil on their exposed roots, and the debris was cleared from the parking lot.  It was raining like hell. Like the rest of the Hudson Valley, you can batter and bruise us; you can take a few of us too soon; and you can make us wonder about our makers.  But you can not take away our spirit and resolve for a more beautiful tomorrow."
"We cleared the lower parking lot of most of the macadam rubble, replaced soil around the many Sycamore tree roots that were washed away, as well as raked up mountains of leaves from the road leading into the park from the Broadway entrance," wrote Alan Englander in the Village of Nyack Facebook group.  "MUCH MORE will need to be done before the park can formally re-open." Heavy equipment will be required to restore and re-grade the trail itself to proper safety standards, according to Nyack Beach State Park Manager Chris Nielsen.
See also: Nyack Beach State Park Needs You, 11/24/12
Photo Credit: Timothy Englert