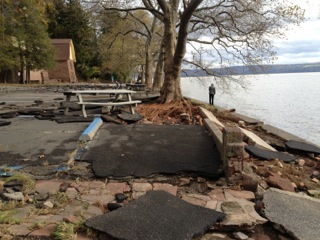 Who doesn't like The Hook? Locals are proud of our special place on the river, a path that winds gracefully along the Left Bank of the Hudson from Upper Nyack to Haverstraw. It's a special park which has been a friend to anyone who likes to hike, walk, bike, fish or just gaze at the magnificent river which helps define our community. However, after Hurricane Sandy, it has become a friend that's also in need. And on Tuesday, you can pitch in to help repair the damage created by last month's superstorm.
On Tues Nov 27 the Palisades Interstate Park Commission invites anyone who has enjoyed The Hook and has a few free hours to a Nyack Beach State Park Volunteer Clean-Up Event from 8a-2:30p. Working with park staff, volunteers will help with the post storm cleanup, stabilizing trees and clearing the beach parking area of debris."The trail to Rockland Lake along the Hudson received severe erosion damage, the sea wall and parking lot were damaged by the record high water," says Chris Nielsen from the PIPC. "The debris left from the high water needs removal from the parking area. Soil was washed away from the large sycamore trees roots and with help of the volunteers we will replace the soil to attempt to save the trees," he says.
There's lots to do, so volunteers should bring gloves — and a pen to sign the volunteer service agreement. You must be 18 or older and walk upright on two legs to help — sorry no dogs are allowed to volunteer on Tuesday." This volunteer effort on Tuesday will be the beginning in the rebuilding process so Nyack Beach can continue to be enjoyed for many years to come," says Nielsen.
For more information, email Christian.Nielsen@parks.ny.gov or call 845-268-3020.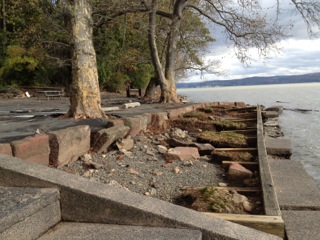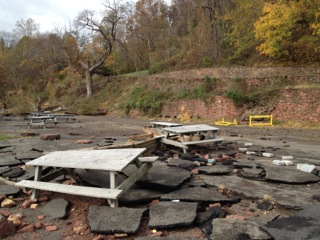 Photo Credits: Colin Heasman, Timothy Englert