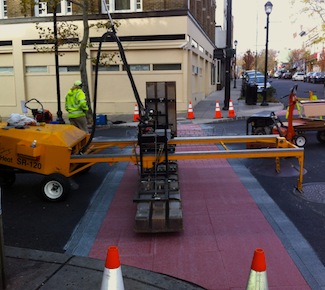 Nyack, Nov 18 — It's a trick question.
Nyack's two year streetscape improvement project wrapped up on Friday when red brick cross walks were laid on Main Street between Broadway and Franklin. But no actual bricks were harmed in the creation of this streetscape.
Streetscape Services Inc. from New Egypt, NJ created the faux bricks using special equipment that uses infrared light to heat the asphalt and imprint a thermoplastic overlay to give the cross walk the color of red brick. A cable template is pressed into place to create an impression of bricks.
The final product looks and feels like red bricks — but without the expense of excavation, the cost of the bricks and the bricklaying labor.
Planning for Nyack's Main Street Streetscape improvement project began almost nine years ago with construction commencing in June, 2011. In addition to new landscaping, sidewalks, lights and benches, the project added '€œbump outs'€ to mid-street crosswalks designed to calm traffic on Main Street. '€œIt's an important '€" but subtle '€" signal to drivers that indicates this is a pedestrian space and that they need to slow down,'€ said Michael Hakim, owner of the Harrington Park, NJ firm that created the design for the Nyack's streetscape. Hakim says that in addition to being safer, the bump outs benefit businesses, too. '€œThe bump outs reduce the distance pedestrians need to cross the street. They also provide frequent and convenient street crossing opportunities which encourages shoppers to '€˜bounce' from one side of the street to the other,'€ Hakim said.
See also: