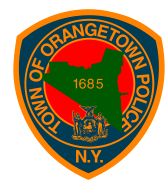 Nyack, Nov 19 — The Orangetown Police are investigating a shooting early Sunday morning on Artopee Way a block from Nyack's Main Street. Police say the victim was taken by friends to Nyack Hospital after being shot in the left leg and pelvis.
Here's the  OPD report on the incident which occurred about 3:30a on Sun Nov 18:
The Orangetown Police are investigating a shooting which occurred on Artopee Way in Nyack NY early Sunday Morning. Officers heard shots being fired and responded along with the RC Sheriff's Office, NYSP and Clarkstown PD. As an area search was being conducted, Orangetown Police received a report of a gunshot victim in Nyack hospital E.R. A 31 year old male from Suffern NY was apparently shot on Artopee Way after some type of dispute.

The victim was taken to the hospital by friends and received treatment for a gunshot wound to the left leg and pelvis. The victim could not provide a description of the suspect. Anyone who may have witnessed the shooting or who has any information about it is asked to call the Orangetown Police Detective Bureau at 845.359.2121.
The timing of the incident is unfortunate for the owners of Nyack's late night entertainment venues. During the Hurricane Sandy power outage, bar owners loudly protested the Village Board's temporary ban on the sale of alcohol saying that operating their businesses as usual during the state of emergency did not pose a threat to public safety in a community without street lights and traffic signals.The Orangetown Police strongly supported the two day alcohol prohibition and public opinion has been highly critical of the bars' position during the power outage. Additionally, recent posts on Facebook by Main Street and Broadway residents say loud and disorderly conduct by bar patrons in the early morning hours seems to be on the increase.
See also: