by Jen McCann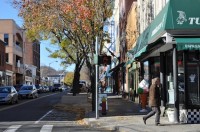 Superstorm Sandy knocked out electrical power to most of Nyack for five days last week. For two of those days, Nyack's Village Board banned the bars from serving alcohol for all or part of the day while street lights and traffic signals were dark. Bar owners vehemently objected and pressured elected officials to rescind the ban. Earlier this week, a bar owner opined why the temporary prohibition was bad for the village. Today, Nyack resident Jen McCann gives a different perspective.

Like millions in the greater New York area, I lost power because of Hurricane Sandy for over a week. I live with my spouse and we care for my terminally ill mother in our house.  My mother relies on electricity to supply oxygen.  Even a few hours without power is a hardship.
As soon as I learned that there were daily emergency meetings at Village Hall, I committed to attend every meeting.  At first I was encouraged that such a forum existed.  On the day after Halloween, I was mortified by what I saw.
Apparently, a group of bar owners had assembled to meet with the Mayor and the Village board before the 11:00am emergency meeting began.  The tone of the meeting shocked me.  The group was hostile and dismissive in a way that exceeded any of the reactions of residents.  It seemed that this group felt that their concerns trumped everyone else's.  I worried that the rancorous debate could divert attention from critical, safety matters that confronted our village.
I can appreciate the fact they are business owners and this is their livelihood, but I was disheartened by their loss of perspective. Preventing people from driving on roads at night that are without traffic lights on roads with down power lines, let alone after drinking seemed like an prudent decision to me.  The idea of feeding people and keeping them warm sounded like an after thought
I live on Main Street and constantly witness the problems of these bars during normal times, let alone times we just faced. I also don't necessarily care what other towns were doing, as every town has its own list of its individual, unique circumstances.
I agree completely with our officials' decision to temporarily impose the safety measures that they did. Living on Main Street, I am constantly reminded, but privileged to know we have five different fire companies zooming by on a constant basis to save lives and houses, and many ambulances rushing through our village to get to our local hospital and police in pursuits. During and after the storm, we needed them to safely do what they needed to do best, with no power, without traffic lights, with many fallen trees, many traffic accidents, fires and without the extra complications of people on the road, especially potentially intoxicated drivers.
I remember holding back the tears and trying to keep it together, as I felt these bar owners took valuable time away and re-directed focus from the many of the public's concerns. Mine too. Everyday, I awaited for Mayor Jen and her constant, helpful resources for my terminally ill mom who relies on power for her oxygen. In that time of need, I needed my power, reassurance, emergency updates, resources and her hope; not a bar.
We live in Nyack, the best little village around. We are resilient, creative and easily become friends. I'm grateful for the leadership that Nyack's Village Board showed during this time of crisis. I'm thankful to any business owner who stepped up when the community needed a helping hand. And I'm hopeful that the bars have learned a lesson that brings us together for the future.
See also: