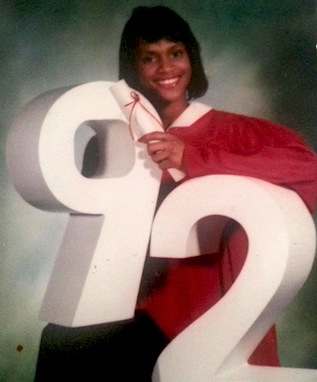 by Dr. Lori Martin
Rachelle Colimon Garrant embodied all that it means to be a member of the Nyack community. She loved the Nyack School district, including every one of her classmates. She was devoted to maintaining the rich legacy of excellence in education and in athletics. A member of the National Honor Society, Afro-Am Club, indoor and outdoor track teams, she proudly wore the red and black. She was as devoted to the school system and its rich traditions, as she was to her faith, family, and friends. Few would be surprised to know that she taught Sunday School at a large Creole-speaking church. When the high school moved from Midland Avenue to Christian Herald Road, she arranged to have the pastor, who didn't even have school-aged children, transport her and several others to the new building. She sought to keep her friends on the right road, in a way that drew them closer to her, not further away.
Our friend and classmate, Rachelle, passed away on November 21, 1998, after a brief illness. She was 24.
Rachelle showed the same love, care, and devotion that she had for the school district, to her beloved family. She was a devoted daughter who cared lovingly for her father, who fought the good fight against the beast that is cancer. She worked diligently to help her mother in any way that she could, including teaching the Haitian-born immigrant how to read and speak English.
Rachelle, a generous soul, contributed both her time and finances to her church family.  She earned a very modest salary working as a dietary aide, while still in high school. She still found it in her heart to send a few dollars to her sister, Joelle, and her brother, Manny, who were away at college.
She was never happier than when she became a wife to her soul mate, Jermaine Garrant, and mother to the young boy who would become the center of her joy, Jermaine Garrant, II.
Rachelle was known, not only for her generosity and dedication to others, but also for her hair braiding skills, and her ability to remember faces, dates, and race times. Her memory could only be described as encyclopedic.
Our friend and classmate, Rachelle Colimon Garrant, was truly a wonderful person. She touched so many lives, including those in her extended family and coworkers at Perk-Up. Her son summarized it best when he said, '€œMy mom is gone, but never forgotten. Because of her God given talents and abilities, I am the man I am today. Her love and her presence touch us when we don't even know it. She had the biggest and brightest smile and I love her more than anything.'€ We the class of 1992, remember Rachelle Colimon Garrant, beloved classmate, sister, wife, mother, and friend.