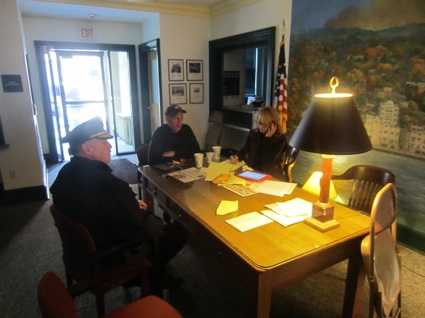 by Bill Batson
Over the vocal opposition of several owners of local bars and restaurants Orangetown Police Chief Kevin Nulty and the Village Board announced a modified temporary ban on serving alcohol in Nyack at the Friday's public  meeting on the steps of Village Hall. The original ban was implemented on Halloween.
Nyack's Post-Sandy Alcohol Ban, revised 11/2

The Village has revised it's alcohol ban to allow local residents dinner and drinks until ten pm in businesses with electrical power. Alcohol and food may be served from 6a-10p. The Village is encouraging compliance with the County essential travel ban and hopes that, for safety reasons, residents stay local. Source: Nyack-NY.gov
Nulty says that the roads are not safe for travel, particularly at night, because of traffic lights that aren't operational and roads that are obstructed by fallen trees and exposed power lines. The OPD and local officials will be re-evaluating the restriction daily. Nyack elected officials, who are holding a daily 11a public briefing on the steps of village hall, will solicit comments from the public as the lights continue to come come back on in the Sandy-stricken community.
Mayor of South Nyack Tish DuBow, Nyack Mayor Jen White and thousands of elected officials were part of a conference call on Thurs with President Barack Obama and Governor Andrew Coumo. The President has declared Westchester and Rockland as disaster areas,  which will allow federal funding to be available to local governments and individuals in the Lower Hudson Valley.Residents are encouraged to contact FEMA to register their loses by calling (800) 621-FEMA or visiting DisasterAssitance.gov. Village of Nyack Mayor Jen White says FEMA officials visited the village on Thursday to survey the damage. FEMA officials also suggested that the post-Sandy gas shortages would soon abate. Fuel barges, that had been waiting off shore because of debris that had hampered docking, were starting to offload.
Nyack schools — as well as other schools in Rockland County — continue to remain closed. Although the Nyack Middle School cafeteria will be open to the public to recharge cell phones on Sat and Sun, all schools in Rockland County are closed until further notice, according to Dr. James J. Montesano, Nyack's Superintendent of Schools. Today's SAT tests scheduled for Nyack High School will be rescheduled for Sat Nov 17.
The Nyack Library will re-open today 11/2 from 12-5. If you are still off the grid, the library staff invite you to WiFi and warm-up!
For updated information, there will be a general meeting every day in Nyack at 11:00a on the steps of Village Hall. All updates will be posted on the door of Village Hall as well as the village web site.
Photo: OPD Chief Kevin Nulty, Trustee Knowlton and Mayor White working in Nyack's "Hurricane Sandy War Room"  in an improvised office in the lobby of a darkened Village Hall
Credit: Bill Batson