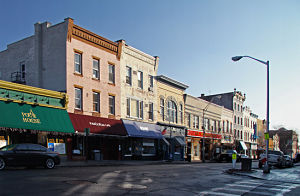 by Marianne Olive
Superstorm Sandy knocked out electrical power to most of Nyack for five days last week. For two of those days, Nyack's Village Board banned the bars from serving alcohol for all or part of the day while street lights and traffic signals were dark. Bar owners vehemently objected and pressured elected officials to rescind the ban. Restaurant owner Marianne Olives explains:
There has never been a safety problem during any power outage over the past 38 years in Nyack. A few dozen times we lost power even several days in a row and the citizens of Nyack have come together as a community. All of the restaurants and bars have always remained opened to serve our local residents. People from the outside don't come when there is a power outage. Nyack is quiet and lovely and fun. People just want to get out of their houses, walk to town and talk to other people or to share lunch or dinner with their family in town. There are at least 500 local residents who do not drive. The negative press, instilling fear into the public about Nyack, as if it were a war zone of loiterers, and criminals who would destroy the village if businesses remained opened, was so damaging to all of our businesses and ultimately to the future success of Nyack.
All over the news, the image of Nyack is worse than the South Bronx. People are now more terrified to come here, thinking they will get jumped if they park and walk in a dark street. Those of us who have lived here 25+ years know that this behavior does not happen. It's rare that there is a problem, but they are all publicized. In Pearl River, the police make sure no problem there reaches the newspapers or national news, maintaining Pearl River as a perfectly safe community to live in.
We had a gas shortage and many couldn't even drive out, creating even more panic. We have a huge population of seniors and locals who take public transportation or many that never leave the village. During this power outage, the senior buildings had no power. I spoke to many who had no food. Many were unable to get out of their buildings because the elevators were not running and they couldn't walk down the stairs. Many looked all over town for a place to eat but the village forced us closed early, leaving our own citizens hungry, and instead of selling our food to the people that needed it, we had to throw it away. The village board forced our residents to search out of town for places to eat and drink, never considering that keeping them safe in our own town was always the wisest move. So many others I spoke to went to Pearl River, New City, Nanuet and Suffern to eat, and drink. I drove through those towns after hearing they served all without power and the lines were wrapped around every block with two hour waits to get in to even a deli.
During storms, Nyack is usually a wonderful place to enjoy for the locals. It's so quiet and cozy with only our locals to serve by candlelight. All the restaurants have gas appliances and emergency lights and have always functioned safely and efficiently for the local residents without ever a single problem. Now we have reports of more domestic violence during this storm where people were housebound with nowhere to go. So many people were cold and irritable and wanted to get out and find a cozy place to relax.
No one wants to cook without power. No one wants to be stuck in their house for so long in the dark and cold. This decision was made by people who haven't been in Nyack long enough to really know what goes on during power outages. We need people in our Nyack business community to be represented on the board. Business people think quickly, precisely and effectively and they would never do anything to ruin the reputation of the village by bad press. Sending messages of fear to the public has caused this village irreparable damage which will take a huge toll on our business community for a long time. Nyack should now try and make an effort to put something positive out in the news about Nyack like doing away with the overnight parking or creating a pedestrian street between Franklin St and Broadway to help build all of our businesses and to try to restore Nyacks tainted reputation, finally giving a break to the businesses who have suffered so much. A village who works as a team with their business district will always be the most successful.
Public safety has never been an issue during any power outage! Nyack is so peaceful and quiet during those times. The only ones here are our local residents. I know all of them and they are not a problem.
'€" Marianne Olive owns Olive's Bar and the Sour Kraut restaurant on Main St in Nyack, NY
See also: Main St. Resident Supports Post-Sandy Bar Ban, 11/15/12
Photo credit: ©2012 alison perry