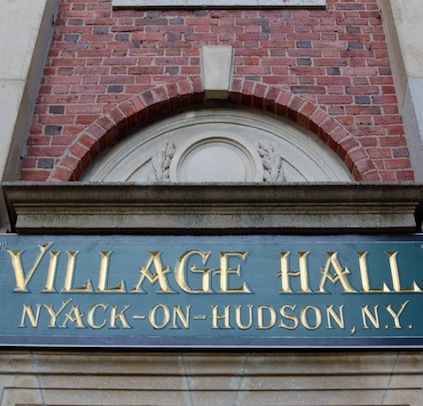 Nyack, Nov 3 — It took 14 years and ratification by 43 states to end prohibition in the United States. In Nyack it took only three days — and turning the lights back on Main Street. "This is the news you have all been waiting for," said Nyack Mayor Jen White. "So you can all now go get your drinks," she joked.
A State of Emergency is still in effect in the village, but the curfew has been lifted as well as the three day alcohol ban that was instituted by the board as a matter of public safety. The trustees felt that the four Orangetown Police Department officers should be available to deal with emergencies in a village without electrical power, street lights or working traffic signals. The owners of Bourbon Street, Casa Del Sol, Pour House, Olive's, O'Malley's and O'D's pushed back hard, saying they needed to serve liquor as soon as possible to make up for the losses suffered during three days they were closed because of Hurricane Sandy.
During the brief booze ban, the bar owners said the Village Board didn't have the authority to restrict the sale of alcohol. But a ruling by the NY State Liquor Authority on Friday upheld their action. "The SLA attorneys reviewed Nyack's action, and they concurred with the legality of the action taken by the village limiting the sale of alcohol in the village," said White.  "As I said all along, it was a tremendous public safety issue. We are so sorry for any inconvenience to the bars. But now, we all need to get back to normal."
OPD Chief Kevin Nulty echoed White's praise for Nyack's business community. "I want to thank all of the businesses in town for their cooperation," said Nulty. "All of the downtown businesses cooperated with the state of emergency, and the Orangetown Police Department wants to thank you," he said.
At the Saturday morning public meeting outside Village Hall, Nyack's downtown was declared open for business. But at the same time it was made clear that many were still without power or heat with the Saturday night temperatures projected to fall into the mid-30's. Among several announcements made at the meeting included benefits for Rockland County's Pantry, People To People, to aid neighbors in need.
With the exception of parking on alternate side of the street emergency roads, you won't need to feed the meters until Monday.
Rockland County school superintendents will conference mid-day Sunday to decide when it's safe to reopen schools this week.
Nyack's DPW is ready to start removing storm debris "Our awesome DPW is making great headway," said White. "They are ready to pickup the flotsam and jetsum from the storm.'€
The Nyack YMCA will re-open on Sunday. For many without power, their first hot shower in a week will only be a short or drive away.
The Nyack Library re-opened on Sat Nov 3.
People To People is helping out the homeless and others in need after Hurricane Sandy

People to People is having a Winter Coat give away of 2000 new winter coats and hats. Contact PeopleToPeopleInc.org for more information.
Toga Bikes in Upper Nyack is organizing an alternative to the NY Marathon on Sunday morning, 11/4. It's a chance to run and train with world class triathletes and also help out fellow Rocklanders, too. Meet Sun at 8a Sun at Rockland Lake and bring cans and non-perishable goods to help stock the P2P Rockland County pantry.
p.ross in Nyack is collecting clothing and shoes for People To People on Sun Nov 4. Donate for a good cause today, get a $25 coupon to use another day at the Main Street fashion boutique.

Nyack's Mayor and Village Board will continue to hold daily 11a public briefings until the State of Emergency is lifted.