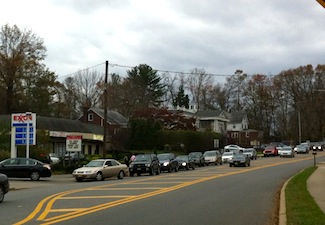 Nyack, Nov 2 — Schools are still closed and over 1800 people in the Nyacks are still without power. But the lights have returned on Main Street and bar owners commemorated the event by storming Village Hall on Thursday to protest a temporary emergency ban on serving alcohol. Maybe this is the new normal.
If you are displaced and want to find out if the power is back on where you live, visit the O&R Electrical Outage Status page. If you can enter either your home phone number or your account number, they can tell you if you have power.
On Tuesday, 5600 homes were without power in Nyack, Upper Nyack and South Nyack. As of Thurs night, that count had been reduced to 1884. O&R says they have restored power to 72,000 customers in their service area as of 10p Thurs leaving 63,000 Rockland County residents still in the dark. The utility says they have repaired most of the damaged components of their infrastructure, including  17 de-energized substations, 22 of its 27 damaged transmission lines, and 40 of its 101 downed distribution circuits. It's work O&R says is important because other repairs cannot be completed without re-energizing these substations.
On Thursday Nyack amended its "ban booze" to let restaurants serve alcohol until 10p. The alcohol prohibition was instated on Wed to give the Orangetown Police some flexibility in policing the community during the power outage instead of being tied down on Main Street to deter to bad bar patron behavior. The amended policy is designed to encourage restaurant dining while discouraging late night intoxication, which officials say is especially dangerous on dark streets without working traffic lights.
And if your are old enough to remember the Arab Oil Embargo, you can be forgiven for doing a double take at the long lines at the gas pumps in NY and NJ. In addition to disturbing supply lines and refinery operations in the aftermath of Hurricane Sandy, many stations couldn't pump gas without electricity creating shortages — and whoppingly long wait times at many stations in NY and NJ. When will things get back to normal? Experts say it might take up to another week.
Before and After: The Boathouse At Nyack Marina
Before and After: Hook Mountain Boat Club

Ali Perretz is a local artist, photographer and Nyack resident. "I photograph Nyack constantly, in all different types of weather and times of day. It's so sad to see so much of the beautiful town I love so much get destroyed by this outrageous storm," she says. Perretz took at the 'after' photos on Tuesday and Wednesday. "The Hudson River looked more like the Atlantic Ocean on Monday and Tuesday, I've never seen anything like it. My heart goes out to those who lost their property or in the worst cases, loved ones," she says.  ©2012 Alissa Perretz