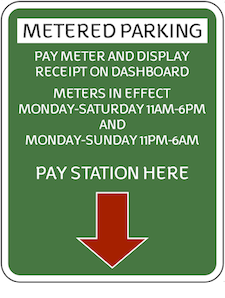 Nyack, Nov 27 — You can park for free if you know where to go in Nyack between now and Jan 2. Nyack's Village Board, working with the Chamber of Commerce of the Nyacks and ACADA have declared a parking holiday for the municipal lot on Artopee Way behind the Riverspace building by Main Street through the rest of 2012.
If you park anywhere else in the village, you'll still need to feed the meters 11a-6p and 11p-6a Mon-Sat.
A story on page 11 of the November 2012 Nyack Villager erroneously stated "From Nov 25 through Jan 2, parking in the Village of Nyack will be FREE for your holiday shopping excursions." We deeply regret and apologize for their error.