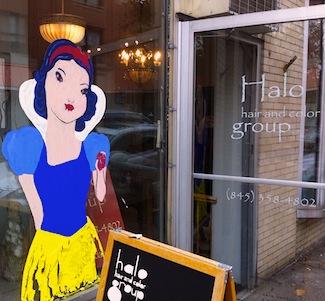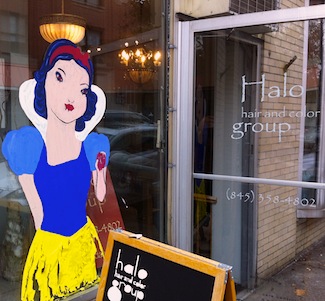 If you or your kids missed out on Halloween, you have a second chance on Saturday to trick or treat in downtown Nyack. There's a "Boo Sandy" party between 2-5p that remembers the good ole days — before Halloween hurricanes and pre-winter snowstorms. Fair skies, 50 degree temperatures and good times are forecast — and everyone is invited to join in the fun on Main Street from Franklin to Broadway.  Boo Sandy will include  a "trunk and treat" gathering in the municipal parking lot in front of Riverspace with music, tricks and treats.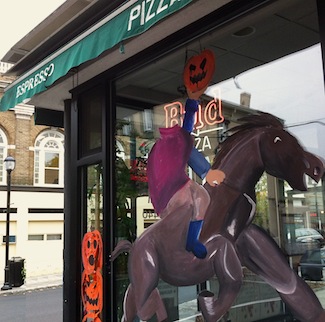 There will be free parking in the Artopee parking lot during the event on Sat Nov 10.
Kids are invited to get their costumes out one more time for trick or treating. They'll be live music for grown-ups, too.
Every Halloween, Nyack High School Students decorate the storefront windows on Main and Broadway. Some of their 2012, pre-Hurricane Sandy work is featured here.
Boo Sandy is a chance to have fun and also help out some of your neighbors, too. People to People and other charitable organizations will be accepting "canned corn" and other non-perishables for those in need in the wake of the storm. Please consider  making a food or financial donation to one of the non-profit groups which are helping the members of our community who are still suffering from the effects of Hurricane Sandy.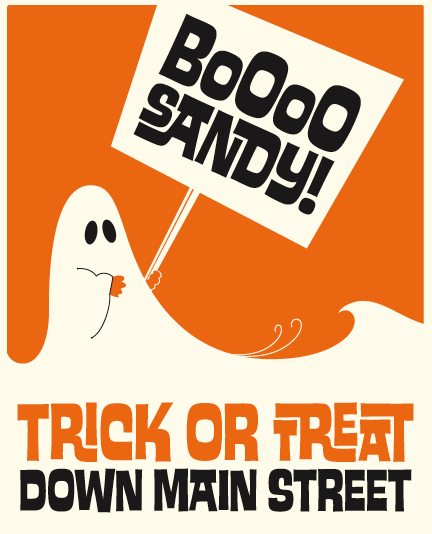 Nyack's merchants will have special deals, restaurant specials, music and tricks or treats on Sat Nov 10 from 2-5p.
The Boo Sandy Halloween Redux is sponsored by the Village of Nyack, the Art, Crafts, and Antique Dealers Association (ACADA), the Friends of the Nyacks, and the Nyack Chamber of Commerce.
For more information contact Paulette Ross 845-348-1767.