N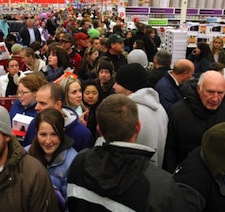 yack, Nov 23 2012 — Today is Black Friday, the busiest shopping day of the year. Which begs the question, "says who?" Turns out, no one really knows. Although you have to give a lot of credit to retailers and their publicists for making it a real holiday — and least as far as sellers and shoppers are concerned.
For many years the Friday after Thanksgiving wasn't the busiest shopping day of the year — that honor belonged to the Saturday before Xmas. But Black Friday is a great media story on the day after Thanksgiving when news is slow. And as we learned during the just completed presidential campaign, if you repeat something enough times it takes on a truthiness kinda credibility. Retailers, much like presidential campaigns, are not going to let fact checkers dictate their destiny.
Here are a few fun Black Friday facts you can ponder why you are fighting for a parking spot at the mall and wondering why everyone else is there too:
Only after years of telling the tale that Black Friday was the busiest shopping day of the year did that self-fulfilling prophecy turn true. T-Day plus 1 ranked from fifth to tenth on the list of busiest shopping days until it took the top spot for the first time in 2003. Prior to that, the last Saturday before Christmas usually was usually tops.
The mostly widely repeated reason why the word black — often reserved for things better associated with doom and gloom — is attached to this Friday is that this day is the first profitable day for retailers since the previous Christmas season. Turns out that was just a PR cover (let's hope that retailers know how to turn a profit on days that don't fall between Nov 23 and Dec 24) to spin a bad history for today, where employers fearing Friday-after-Thanksgiving-itis  absenteeism saw it as a dark day with low productivity on the job. In 1966, The Philadelphia Police Department started calling it Black Friday because of the massive traffic jams that shoppers created in that city's downtown.
The original connotation of Black Friday is just as bad and more than 140 years old, referring to a post-Civil War effort by robber barons to corner the US gold market.
Shop early and often because the next mythical holiday, Cyber Monday — the first day back at work when everyone starts ordering online because they don't have Internet access at home, is right around the corner.
See also:
Photo Credit: Gufuyourself.com