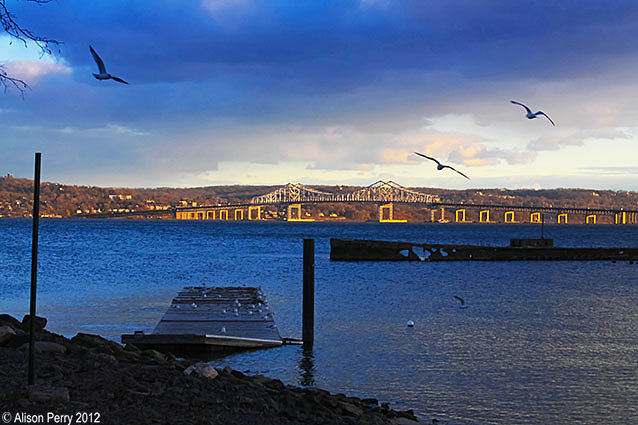 by Alison Perry
Nyack, Nov 30 – That damned if you do… damned if you don't feeling kept creeping over me last Sunday afternoon. The day had been drearily overcast with only occasional patches of sunlight bursting though thick cloud cover, but more so as Saturday's storm cleared through… so out the door I finally went! I'd been working at my computer steadily for two days, so a bit of refreshing fall air was warranted. Hopefully, the remaining daylight hours would yield more sunlight and perhaps with it, a significant image or two. Remembering the Tappan Zee Bridge turns golden this time of day, I drove over to the hilltop street near the old high school and sure enough, it was. As I set up my tripod I thought about the bridge's impending demise and how different the landscape will be without it. I thought about its time in history, how it helped shape the local river towns, how it brought more social activity and expanded economic opportunity to the surrounding region and to places far, far beyond. There are things that we do each and every day that we don't give much thought too after a while, like crossing a bridge to get to someplace more important, but it truly is amazing when you think about what a span of steel can actually do.
This image was post-processed in Adobe Lightroom. It was shot hand held at 640 ISO. Higher ISO speeds create digital noise, which can be better seen upon enlargement. Eliminating it can be a bit tricky, because it is more noticeable in the shadows and less noticeable in the highlights. I was mostly concerned with the dark clouds and water, so I softened those areas using the noise reduction and sharpening tool located in the details panel of Lightroom. I've provided a link to a very good tutorial that demonstrates how to get the most out of this essential tool. It's the same tool found in the Filter menu bar of Adobe Photoshop. Together or separately, one can enter the three color channels, red, green and blue to smooth out the noise, i.e., pixilation, which in turn softens specific areas or the entire image. I've yet to master Lightroom, but the more tutorials I watch and the more I experiment, the more I learn to improve my image making abilities.- Alison Perry
Exposure information: 125 @ F9 ISO 640 (hand held) Canon EF lens: 28-135: F3.5
The Tappan Zee is in the hearts and minds of many here, although I'm certain, none more than those who grew up in Nyack and nearby river towns, regardless of east or western shoreline view. Some are fortunate to have an unobstructed view, but a lot of folks here and elsewhere encounter it en route to work or in other business or leisure activities such as sailing or walking along a hiking path or cycling in the vicinity. The bridge is an iconic landmark, without landmark status, but will remain intact in our collective memory and heritage for years to come, reminding us of places further afield and people we traveled over it to see. I will always remember approaching and crossing the Tappan Zee Bridge as a child, driving with my family to visit paternal grandparents in upstate New York. It was the most exciting part of the long journey.
In my much shorter travels on Sunday,  three locations provided abundant color and atmosphere, thanks in part to those low, storm clearing clouds moving east over the valley. First, a scenic view from the hilltop ridge, then a suburban landscape along the east end of Burd Street and finally a cinematic view from the river's edge and local boat launch. Because my photography is about place and effect, I try not to avoid revisiting any site since the same view can offer vastly different opportunities depending on the season and elements. The scenic image shown above draws from the color, clouds, birds and man made objects to balance the composition and draw the eye to the distant focal point bathed in the warm golden light of the sun, while together, the landing, objects and gulls help form a context this place called Nyack.
*Some interesting additional information: Completed in 1955, the bridge was named from the wide body of water it transverses – the Tappan Zee, derived from Indian and Dutch origins. The Tappan was a sub tribe of the Delaware-Lenni Lenape Indians who inhabited the region, radiating from the Hudson Palisades and New York-New Jersey Highlands at the time of Dutch colonization in the 17th century. The Dutch word "zee,"  translates to "a wide body of water" or "sea" in English. Among others, this large expanse of water was depicted in an 1876 oil painting, The Hudson at the Tappan Zee, by Francis Augusta Silva, American, (1835-1886). Silva was a 2nd or 3rd generation self taught HRS Luminist painter famous for his marine scenes, meticulous detail and expressive color. He recreated a compelling atmosphere of reflected sunlight combined with moisture rising from the river's surface in this 24 x 42 3/16 in. painting. It hangs in the Brooklyn Museum.
Alison Perry owns a Nyack-based photography business that combines architecture, landscape and formal space and strives to make personal art about time and place. Imagery is for sale through her website. She received BFA in Studio Art from SUNY Purchase and a graduate degree in Library Science from Long Island University. Previously, she worked in journalistic and editorial photography for several different national/regional newspapers in NYC, PA and CA. See examples of her work at alisonperry.photoshelter.com/index

See also: