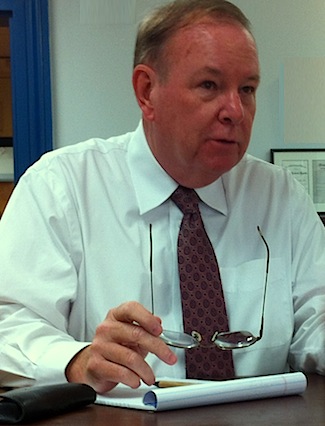 Nyack's new part-time planner brings major league urban planning experience to the village. Bob Galvin, AICP will be working one day a week at Village Hall on projects including economic development activities, grant writing and marketing communications.
Galvin's experience includes 25 years on the Mamaroneck, NY planning board, during which he worked on that village's downtown streetscape, local waterfront revitalization and workforce housing,  and the master plan for the 46 acre Harbor Island Park in Mamaroneck. As a director of a local economic development corporation, Bob was also instrumental in the financing and construction of the $19 million, 114-unit Regatta Condominiums, a linchpin in Mamaroneck's downtown revitalization efforts.
"In the short time that I have been in the village, everyone has gone out of their way to make me feel welcome," says Galvin. "Nyack is a diverse and interesting community with a vibrant downtown, active Hudson River waterfront, an arts scene, varied street events, great neighborhoods, and involved residents. Nyack is a village that one can really get involved in and make a difference," he said.
Galvin's planning experience includes consulting, site planning, demographic analysis, inclusionary zoning, land use/zoning, and market analysis for housing, main street and retail projects. During his career as a professional planner, Galvin has held multiple senior level management positions with a number of Fortune 500 information companies. Additionally, he is a member of the American Planning Association's Metro Chapter, the Urban Land Institute, and a director of the Westchester Municipal Planning Federation, the New York Planning Federation and several non-profit housing organizations.
"I am excited to have Bob Galvin as Nyack's first Village Planner," said Trustee Doug Foster, who is also a professional planner. "He has deep experience as a professional planner in key areas we need, including the review process and economic development and marketing."  Foster says Galvin will also be working with the village board on implementation of Nyack's affordable housing law which was recently amended by the Village Board.
Galvin received a Master's degree in Urban Planning from Hunter College. He also holds a Land Use Leadership Alliance Certificate issued by the Pace University Law School for Mediation and Affordable Housing.