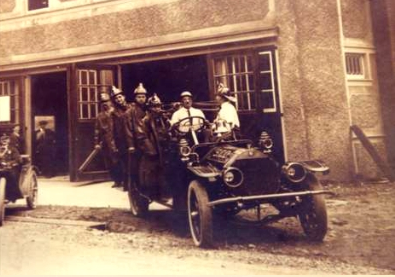 by Bill Batson
A one-time firehouse begins a new life as a community arts center — and its first exhibit celebrates its rich past and looks ahead to what's next. "Sparkill's Union Street Firehouse – Past, Present and Future," will be on display at the Union Arts Center, the former firehouse, at 2 Union Street, Sparkill New York, opening on Sat Oct 20 from 11a-4p.
Sparkill has a rich recoded history, from the arrival of the Dutch, who settled here because the creek is the first navigale waterway off of the Hudson after the inpenetrable Palisades, to the story of Skunk Hollow, a Civil-War-era haven for African Americans.  According to the Rev Sanders of St. Charles A.M.E. Zion Church in Sparkill, many of his congregants are the descendants of these early black settlers.
But the major focus of the exhibit is the building at 2 Union Street.  Photos, text and artifacts explore the history of the grand old building '€" from firehouse/community hub, to craft cooperative affiliated with a spiritually minded movement, to its current and future use as a trendy arts center.
Festivities on Saturday will include the arrival of a fire truck from the mid-1800's courtesy of the Knickerbocker Engine Company in Rockland Lakes.
Discover what activities are currently underway  and what directions are envisioned for the future of this historic place of community.
Admission is free.  The exhibit is co-sponsored by the Sparkill History Project and Union Art Center.
Contact Larry Vail at 845-642-5044 or sparkillny@gmail.com  for more information.