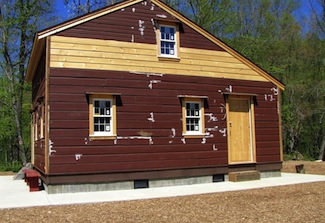 Hillburn, NY — A 200 year old iron-worker "saltbox style" house begins a new life as a museum, classroom and research center in Hillburn on Sun Oct 7 at 12n. The building will house the Ramapo Saltbox Environmental Research Center (ERC), a field research center designed  to examine the long-range impact of paint sludge contamination, the result of Ford Motor Company's dumping during the 1960's and 70's.
Ramapo College of New Jersey interns and BOCES high school students have provided the manpower for this two year restoration project, a cooperative effort between BOCES and Ramapo College to develop design and construction job skills for their students. Under the direction of Environmental Educator Chuck Stead from the Cornell Cooperative Extension, the students have designed and assembled furniture and completed the tedious process of timber restoration to rebuild the structural parts of the saltbox. In addition to BOCES and Ramapo College, AmeriCorps, the Cornell Cooperative Extension of Rockland and Antioch School of Environmental Studies in New Hampshire have participated in the project.
Almost all of the original wood recovered from the structure has been restored, however, a number of modifications were required to meet modern building codes.  The house which originally stood on a simple outline of field stones for two hundred years now sits on  a concrete slab with a 36 inch footing.
The Ramapo Saltbox Environmental Research Center will be a site for environmental education and research as well as offer experiential learning skills in sustainability for young people. Research on soil contamination at the ERC will help determine the need for removal of contaminants left behind by the Ford Motor Company.  The public is invited to the dedication of the saltbox on Sun Oct 7 at 12n on Torne Valley Road, in Hillburn in the Town of Ramapo, NY.