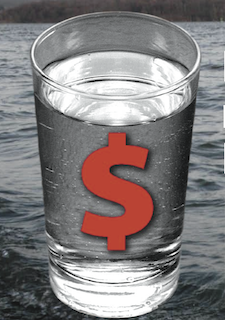 Last week the Rockland County Legislature formally asked Albany to slow down the clock on making a decision on United Water's proposed desalination plant in Haverstraw. A resolution requesting the NYS Department of Environmental Conservation (DEC) and the Public Service Commission (PSC ) to hold an issues conference and adjudicatory hearing about the desalination plant was passed by the legislature. Rockland's legislators also asked Albany to reopen the rate case requiring United Water to develop additional water supply sources for the county.
'€œThe bottom line is the stakes are too high," said Rockland County Legislator Nancy Low-Hogan (South Nyack-D). "This issue must be examined thoroughly and we must implore the PSC and DEC to take the time to do so," she said.
Rockland County Legislator Chairwoman Harriet Cornell and Vice Chairman Alden Wolfe will hold a press conference on Tues morning to draw attention to their plan to go to Albany and request that the DEC and PSC to hold hearings about the impacts of the proposed desalination plant. In June, the Rockland Water Coalition collected more than 24,000 signatures from residents opposed to the United Water initiative.
Cornell says the legislature's rate-case resolution supports a recent action by NYS Assemblywoman Ellen Jaffee, a stakeholder in the original rate case who sent a letter to the Chairman of the Public Service Commission requesting the case be reopened to consider new information and growing public opposition. '€œAn adjudicatory hearing will bring to light a combination of options which were mentioned but not studied by United Water in the DEIS and are available to produce and conserve water," said Cornell. "It's been done elsewhere, why not here?'€ she says.
'€œThere are serious environmental issues affecting our county and the Hudson River, the potential for unknowable health risks and exorbitant increase in the cost of water for UWNY consumers," says Wolfe.  In 2006, the Public Service Commission required United Water to develop an increased water supply for Rockland County. UNWY response was to propose construction of a desalination plant in Haverstraw. Wolfe says a subsequent report by the US Geological Survey (USGS) found Rockland's groundwater supply to be far healthier than reported to the PSC in '06.
See also: