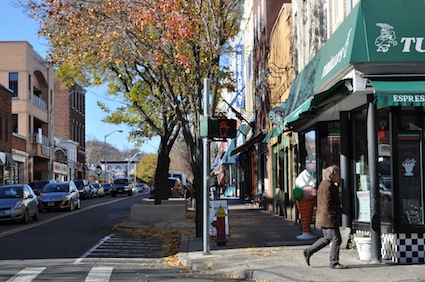 Nyack, Oct 8 — If there was a National Public Works Week, this would be it. Main Street gets re-paved, water mains get flushed and nighttime Tappan Zee Bridge deck replacement work will close the South Broadway Thruway entrance in South Nyack every night this week.
On Mon and Tues, the last major part of Nyack's two year Main Street makeover hits the ground… scraping. The Streetscape Finale begins on Monday when Main Street between Broadway and Franklin will be milled with paving to follow on Tuesday. It all starts at 7a on Monday morning. It's all weather dependent, so the 40% chance of rain on Tues may push delay some of this work until later this week.
Assuming that gray skies are going to clear up, you can park in a happy place. The village will offer free parking in the Riverspace and Artopee lots from 11a-6p during milling and paving days.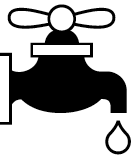 At the same time that contractors will be working on our roads, there's work being done below our streets, too. The Nyack Water Department will flush water mains between 9p-6a throughout the week. West and Central Nyack get the treatment on Mon-Thurs. Nyack College and South Nyack are scheduled for Thursday and Friday. The Village of Nyack and South Nyack will have their water mains flushed the following week, Mon-Fri Oct 15-19. As a result of the flushing, water may be temporarily discolored and you might experience a temporary reduction in water pressure.
And if you are thinking of heading east some night to get away from it all, the South Nyack entrance ramp to the Thruway South across the Tappan Zee Bridge will be closed for part of the evening every day through Saturday night.
Mon Oct 8: The southbound entrance at Exit 10 South Nyack will be closed from 9p-6a.
Tues-Thu, Oct 9-11: Closed 8p-6a.
Fri Oct 12: Closed 9p-6a
Sat Oct 13: Closed from 11p-8a
Once you get on 287, expect your trip to be delayed by various lane closures in both directions on the Tappan Zee Bridge. You can get a good idea of how traffic is moving 24/7 at the NYS Thruway's traffic Webcam page.
See also: Thruway Authority to Continue with Tappan Zee Bridge Deck Replacement Project October 8 through October 14