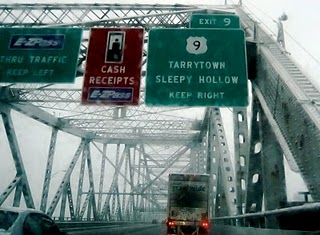 by Marie Lorenzini
Despite the Federal Highway Administration's approval last week of Governor Cuomo's Tappan Zee Bridge plan, there are still many issues that have yet to addressed. Lower Hudson Valley residents want to know more about how the bridge will be financed, what the new toll will be and if we will ever get the mass transit and road improvements we were originally promised.
We hear many comments from Gov. Andrew Cuomo's team dedicated to getting a new Tappan Zee Bridge built quickly, giving speed priority over the long-standing plan to fix safety issues along the corridor. Karen Rae, the governor's deputy secretary of transportation, in a Jan. 31 Bloomberg News article said that accelerating the project '€œis the linchpin of everything you have heard from the governor.'€ New York State Thruway Authority Executive Director Tom Madison told CBS New York on Feb. 12 that: '€œThe next bridge to cross the Hudson at this point will be designed for a hundred years.'€ Larry Schwartz, Cuomo's secretary and point man on the Tappan Zee project, said during a July 25 interview with The Journal News/LoHud Editorial Board: '€œWe are having community meetings to establish an open line of communication, to get input and feedback '€¦'€ and he has pledged to '€œbe responsive to questions and concerns of Westchester and Rockland residents '€¦ .'€ State Sen. David Carlucci, D-New City, in a news release in October said: '€œTransportation infrastructure is a cornerstone in maintaining safety standards for our residents and is integral to economic development in (New York State).'€
TZB and BRT: When Cuomo Says No, Labor Says Yes!
The Tri-State Transportation Campaign is citing says organized labor is in favor of adding mass transit to the Tappan Zee Bridge project.
"Time and time again, Tappan Zee Bridge replacement boosters have emphasized the importance of the project in creating jobs," says Sam Handler at the TSTC. "Any infrastructure initiative of this size will help construction workers' families make ends meet, so long as construction continues."
Handler quotes a letter from the 190,000 member Amalgamated Transit Union noting the huge employment benefits that would come with a state commitment to a robust east-west transit system in Rockland and Westchester counties.
Union president Larry Hanley says that bus rapid transit create '€œtransit operation, maintenance, and manufacturing'€ jobs that '€œgo beyond the life of bridge construction and are spread throughout the state.'€
According to a 2011 Smart Growth America report, '€œinvestments in public transportation generate 31% more jobs per dollar than new construction of roads and bridges.'€ The current bridge replacement plan does not include a firm commitment to transit in the I-287 corridor.
NYS Governor Andrew Cuomo is expected to announce soon the members of a regional taskforce which will provide recommendations for public transit in the Lower Hudson Valley within the year.
I was an active member of the Stakeholders' Advisory Working Groups (called SAWGs) that worked for years on plans for an overhaul of the Interstate 287 corridor and a new Tappan Zee Bridge. The groups, comprising volunteers from both sides of the Hudson River, along with paid consultants and engineers working on the project, had identified many pertinent traffic safety issues that existed beyond the bridge span, and would worsen '€œonce the new bridge hits land.'€
The project team identified areas along the Thruway that warranted consideration for improvement, to keep traffic flowing safely beyond a new river crossing. According to meeting notes from a Sept. 1, 2010, SAWG meeting, issues discussed along the Thruway corridor in eastern Rockland County include:
At Interchange 11, the westbound roadway transitions from four lanes to three, resulting in a bottleneck, increased congestion and greater potential for accidents.
The steep climb from Interchange 12 to 11 creates an operational problem due to slower-moving trucks. For this reason, climbing lanes were considered.
At the eastbound Exit 11 onto Route 59, Village of Nyack, a redesign had been considered due to the major congestion at this exit affecting the confusing Route 59-Mountainview Avenue intersection and the southbound entry to the I87/287 and the bridge.
At Interchange 13, the cloverleaf ramps offer limited area to merge as cars travel to and from the Palisades Interstate Parkway and the Thruway. The introduction of collector/distributor roads would separate merging and weaving vehicles from general traffic. The accident record for this interchange is significant, according to New York State Insurance Department records.
A steep grade on Route 59 East in the area of Exit 11 causes traffic backups along the road and into access of the Thruway entrance. Reports indicated that a lowering of Route 59 E a few feet would eliminate this problem.
Why invest in a new bridge that moves traffic quickly, only to have it stopped by a poorly planned highway?
Many people, on both sides of the Hudson, have come to the conclusion that, maybe a new bridge is needed. But by not addressing some of the current safety issues, dropping a new bridge into a traffic corridor without addressing them would do little to alter the traffic and safety issues that stand today.
The Cuomo team has said there are limited funds available. So the focus has become just the bridge, and does not address a larger highway improvement program.
This demonstrates a real lack of concern for the folks who use the bridge on a daily basis and those who are affected today by the inconvenience this '€œoutdated and unsafe'€ bridge causes on local roads and travelers.
So far, there is no funding secured for this project, so why not add the other safety measures to the construction bill and address all safety issues at once?
Does the governor and his advisers think that once a new, safe, larger bridge hits land the existing safety issues will disappear?
Figuring out a way to build the new bridge, and doing it relatively quickly, would provide Gov. Cuomo with a legacy project when he leaves office. Why not make a legacy that addresses public safety and not '€œselective'€ safety?
Something is lacking between safety, transparency and overall concern for the region in the current plan, which looks more like a political move than a proposed solution to fix long-standing problems. Look beyond the footprint of the bridge when planning to build a new, safer highway in the Lower Hudson Valley.
Marie Lorenzini is a trustee in the Village of Nyack, NY.
 Photo Credit: Pix E. at Nyack Snap