by Janet Hamlin
For the last five years, an accomplished illustrator, courtroom artist and local resident has led a figure drawing class in Nyack.  A graduate of the Art Center College of Design in Pasadena California, Janet Hamlin has also been the sole courtroom artist assigned to the proceedings at Guantanamo Bay by the Associated Press since 2006. 
When I first moved to Nyack in 2007 one of the first things I did was join the The Edward Hopper House Arts Center so I could meet other artists and get involved in the Nyack arts scene. Shortly after joining, a newsletter came out, and in small print a request for a volunteer to restart a figure drawing group at the Hopper House.  A figure drawing group had been met there for years, but it had gone defunct, and local artists had begun to express interest in having sessions again.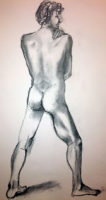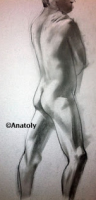 We had our first session in March of 2008 with a modest turnout. My plan was to make the group self-sufficient, turning all we made back into the program, buying coffee and snacks. A generous donation from a patron allowed me to buy wood and make 4 drawing horses and an all-important spotlight. We were set! And our sessions began to flourish as word spread. We were even able to provide modest scholarship funds for students.
Sessions ran out of Hopper House until June of 2011, when they could no longer house us because of security concerns over an upcoming exhibit of original Hopper works.
We then moved to Nyack Center, and our group continued to grow as word spread and young people began coming to build their portfolios for art school. A diverse cooperative had formed. In appreciation for housing us, the program has given back to Nyack Center in various ways.
The model of keeping an affordable cooperative drop-in drawing session had been going well up until this summer, when we began experiencing a drop in numbers. Unfortunately our funds are now running low, endangering the program.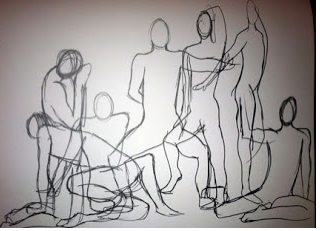 This is a fantastic opportunity to draw in a warm non-judgemental environment. Classes are on Thursdays from 7:30-10p at the Nyack Center. The cost is $6 for students and $12 for adults.  Donations are welcome.  For more information visit nyack center figure drawing or contact me directly at janet.hamlin@gmail.com