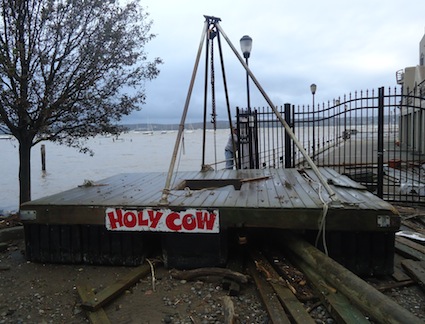 by Dave Zornow
Nyack Mayor Jen White will meet with residents and businesses at 11a today on the steps of Village Hall to update citizens about the response to the effects of Hurricane Sandy. It's likely that elected officials will suggest curtailing Halloween Trick Or Treating as there are too many power lines still down to make it safe for children to walk from house to house.
Nyack, Oct 30 (updated 10/31 8:34a) — Nyack and its two sister villages suffered significant damage during Hurricane Sandy as countless trees snapped and power lines were downed. As of 5p, approximately 5600 people were without power in the Nyacks according to O&R's outage map. Clarkstown Town Supervisor Alex Gromack says two out of three O&R customers in Clarkstown are without power — about 22,000 homes. O&R, which counts 200,000 powerless customers in their service area, says it will take between 7-10 days to restore service to everyone.
Of the 120,000 customers in Rockland County, 75,000 are without electricity, according to Rockland County Chief Executive Scott Vanderhoef.  "Hurricane Sandy is the worst storm in more than a century," he said.
The Nyack Marina, which re-opened last Spring after a 2009 Noreaster inflicted severe damage, took a big hit during the storm. The River Club sustained significant damage during the storm after a sailboat broke loose from its moorings and crashed into the restaurant. A house, built on pilings over the water in the marina, was also destroyed in the storm.
A state of emergency remains in effect in Nyack and Clarkstown and officials urged residents to only travel if absolutely necessary. "This is an unprecedented storm — and we need to respond correspondingly," said NYS Senator David Carlucci in a joint conference call with Clarkstown Supervisor Gromack and Clarkstown Police Chief Michael Sullivan on Tuesday. Over 80 secondary roads are still closed in Clarkstown. Because it will be at least a week until all traffic lights are back online, Carlucci has put in a call to Governor Cuomo to back Clarkstown's request for 30 members of the National Guard to help direct traffic in the town.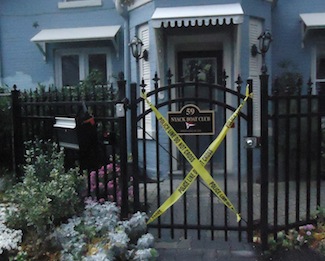 Nyack Mayor Jen White will hold outside office hours on the steps of Village Hall at 11a every day for the next week to meet with residents and businesses. The village, which has been issuing multiple updates each day via email and Nyack-NY.gov, reminds residents that
Nyack Schools will remain closed on Wed Oct 31.
Regularly scheduled household garbage pickup will resume on Oct 30
The Village of Nyack's tree ordinance does not apply to trees severely compromised by the storm.
Free parking is available in all Nyack Village lots until Wed (10/31) morning. Parking enforcement was suspended village-wide during the storm with the exception of  alternate side of the street rules. If you received a ticket during the storm, call the Village Court to remind them of the suspension.
Koblin's Pharmacy will be open on Wed (10/31) to fill emergency prescriptions. Nyack Mayor Jen White says that Turiello's and Tarantella's — Nyack's two pizza restaurants on Main Street — are open and making pies.
Nyack's Marina and Memorial Park are closed to vehicular or pedestrian traffic until further notice. Village crews are in the process of securing and cleaning up the area and it is currently unsafe. Trespassers are subject to arrest.
A decision about Halloween Trick or Treating is expected shortly — and it's one that will make kids sad and the Grinch happy.
"I am sad to say that due to the most recent report on downed wires in our Village..my earlier request that people trick or treat early is going to be changed to an order not to trick or treat at all. I am so sorry but Orange and Rockland says that we are among the hardest hit with downed wires and that is too big a risk for our precious kids. We will reschedule. And have an awesome post storm Halloween but for now, it is so important to be safe. The Grinch who stole Halloween will make this official shortly but we should start getting the word out." — Nyack Mayor Jen White via Facebook.
Other post-Sandy news includes:
In an effort to encourage people to stay off the road, you can ride for free on all TOR & TZx services for October 31, 2012, only.
Rockland County says United Water is requesting that residents use water for essential purposes only in the aftermath of the hurricane.  Their facilities are operating on generators which cannot pump water at normal capacity.
The Rockland Community College Field House is serving as an emergency shelter. Bedding and light snacks will be available, all other personal items and medications should be brought with residents using the facility. Please note that the facility is currently WITHOUT POWER. The RCC Field House, a pet friendly facility, is located at 145 College Road in Suffern.
Garbage pick up in Clarkstown will resume on Wed Oct 31 and recycling will resume on November 1.
Piermont emergency officials are requesting all residents to honor a 6p curfew Tues (10/30) evening.
Carlucci noted that O&R has adapted their emergency response procedure to give priority to public service needs such as traffic control. However, Gromack still thinks they can do better. "We would have liked to see more crews and more up-to-date information on power restorations," said Clarkstown's supervisor. "We haven't seen a marked improvement from previous storms. We aren't at the level we should be at," Gromack said.