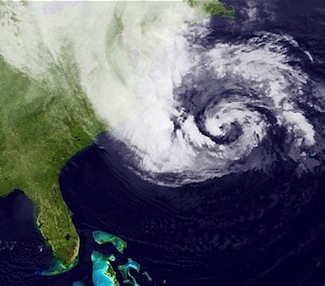 Nyack, Oct 29 1p — It's raining, it's pouring. And that roaring outside ain't snoring. Hurricane Sandy, expected to make landfall later this afternoon, has wrecked havoc throughout the area closing schools, businesses and paralyzing most forms of transportation. Here are the latest officials notices on Hurricane Sandy in the Lower Hudson Valley, Rockland County and the Nyack River Villages.
The Village of Nyack has declared a village-wide state of emergency as of 10:47am today.  There is a travel restriction for all non-emergency vehicles on roadways in the village. Elected officials request that residents stay away from the Hudson River. Village Hall will close at noon for non-essential business. However, an operator will be available for phone calls at  845-358-0548 or the Nyack Village Hall Hotline 845-358-5626.
Rockland Community College is now open as a shelter for the duration of the storm.  The shelter, which is located at 145 College Road in Suffern, NY, is pet-friendly.  Food and beds will be provided.   Residents using the shelter should bring their personal hygiene items, medications and any food required for a special diet. All TOR buses will suspend service at 3p. Tappan Zee Express buses have also been suspended.
The Village of Piermont has opened two shelters at the Piermont Fire Department (554 Piermont Ave) and the Piermont Village Hall at 478 Piermont Ave.
The speed limit on the Tappan Zee Bridge has been reduced to 35 miles per hour. Empty tractor trailers have been banned from crossing the TZB due to the high winds. If the Tappan Zee Bridge is closed, southbound traffic on the New York State Thruway will be required to leave the roadway at or before exit 13, Palisades Interstate Parkway. Northbound traffic will be required to leave the roadway at exit 8, I-287 Cross Westchester Expressway.
O&R is reporting limited outages at this time with only isolated incidents (about 88 people are without power in Sparkill as of 1:30p.) You can follow the impact of the storm on the the RocKland County power grid online at Orange & Rockland Storm Center. If you lose power go to ORU.com or call 1-877-434-4100. Orange & Rockland will not be repairing power outages until the wind speed drops below 40mph which may not be until Wednesday.
All flights scheduled for today have been canceled at Westchester County Airport, including flights out of New York City airports as well.