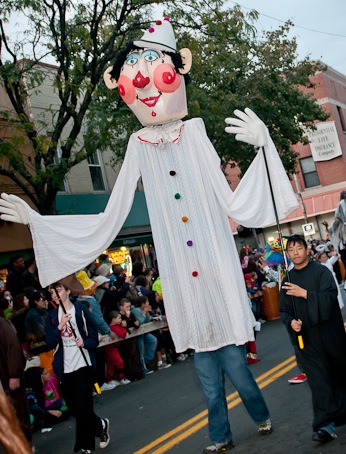 by Carlo Pellegrini
Nyack's 25th Annual Halloween Parade kicks off at 5:30p on Sat Oct 27 (rain date: next day). If you are feeling festive at 3p you can pre-party with live music in the municipal parking lot near Riverspace sponsored by Anjel Blue Studios in Nyack. Organizers say there will be up to 20,000 watching the action and hundreds in the parade '€" but there's still a chance for your group, civic organization, or loosely organized collection of friends to get in on the action and march down Main Street.
The Parade's Gold Sponsor Guinness/Oak Beverage invites everyone to come out and make this the largest parade ever.
There are a few choice spots available to wannabe marchers and participants. Organizers at The Nyack Chamber of Commerce say it's a great way to have fun, show off some seasonally scary Halloween fashions and get some extra visibility for your club or cause. If you are interested in marching and entering your costume in one of 12 BEST COSTUME categories email Carlo Pellegrini, Parade Producer, or call 845-353-2221 for details by Wed Oct 24. THERE'S STILL TIME TO ENTER THE FLOAT CONTEST! The winner of this year's Best Float competition will take home a cash prize of $1,000, courtesy of Nyack's Casa del Sol restaurant.
Parade-goers will also see a reprise of Therese Shorn's '€œFestival of Ghouls'€ '€" 15-foot tall puppets worked by Nyack's own Amazing Grace CIRCUS! performers. THREE of Rockland County's top marching bands will set the beat, including the newly reformed Nyack High School Marching Band under the direction of Mike Smith.
Additional parade highlights include the Suburban Roller Derby of Westchester, the H.O.G.S., four Rockland County Fire Departments, the Cheerleading Squad from Nyack Senior High School, an actual Army truck used in Desert Storm, and unicyclists and stiltwalkers from Amazing Grace CIRCUS! Immediately following the Awards Ceremony in Riverspace Parking Lot at the end of the parade, young Halloween revelers can go to the Nyack Center's traditional '€œMonster Mash'€ party featuring live music, dancing, dinner buffet '€" and lots of spooky fun. The Nyack Center is located at Depew and South Broadway in Nyack.
Returning this year to lead the parade will be Hon. Harriet Cornell as Parade Grand Marshall, Congresswoman Nita Lowey, along with Nyack's Mayor Jen Laird-White (Parade Grand Poo-Bah), Village Trustees, and other local officials and celebrities. The Trustees, along with a special guest celebrity judge, will preside over the costume/float and Judge's Choice contests. Over $2,000 of prizes will be given away to celebrate The Nyack Chamber's 25th Anniversary Halloween Parade!
Assembly of Marchers and Floats starts at 4pm at the top of Memorial Park at the corner of Depew and Piermont. Step-off is 5:30pm. Mark Mangan, Line of Parade director for the 15th year, will organize marchers and floats as they arrive in the park.
Scott Baird, the Nyack Chamber's President says: '€œCome One, Come All to help us make this the largest Halloween Parade in NY outside of Manhattan.'€
Photo: Therese Shorn's '€œFestival of Ghouls'€   Credit: ©2012 Deborah Grosmark