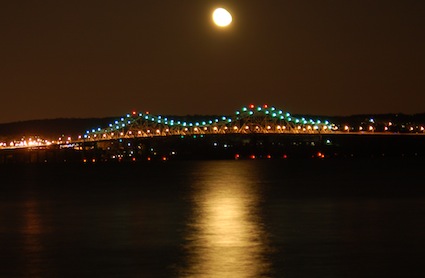 by Mary Fichter
Planning to replace the longest bridge in New York State (Tappan Zee, 16,000 ft.) is not an easy task. Especially if you're the governor and don't know exactly where the $5.2 billion required to build a replacement will come from. So when Governor Andrew Cuomo announced that mega-millionaire art star Jeffrey Koons would be one of six people selected to sit on the committee to review bids from the three bridge design firms vying for the job, New Yorkers had mixed reactions:
Disbelief: You mean the guy who makes those giant balloon dogs?
Hysteria: Out of all the artists, why him?! Isn't he from the Midwest? (Pennsylvania actually.)
Sanctimony: Wasn't he married to a porn star? (Yes, they're divorced.)
Jaded: What, they couldn't get Lou Reed?
Circumspect: What's Cuomo getting out of this?
Anger: Are my tax dollars paying for Koons' two cents?
The other committee members are Pritzker-prize winning architect Richard Meier, the Metropolitan Museum of Art's director Thomas Campbell, local architect Alison Spear, bridge designer Keith Brownlie, and historian Thomas Wermuth, so Koons is the wild card, if not the oddball. But Koons the worldwide purveyor of lighthearted happiness might be appreciated for his bright aesthetics and positive sensibility yet. Since the economic recession began in 2007, at least 30 people have stopped their cars in the middle of the current seven-lane Tappan Zee Bridge, climbed the fence, and jumped.
Mary Fichter is the culture editor at 2paragraphs.com, a Website where everything is written in two paragraphs — or it doesn't get written at all.