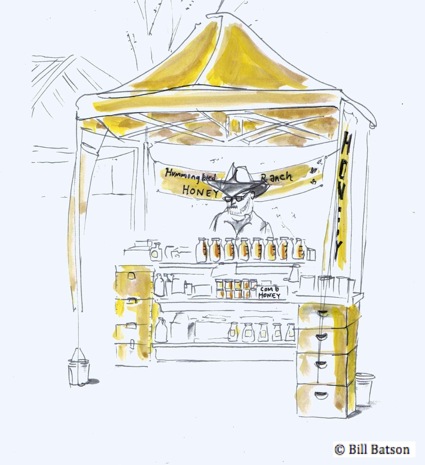 by Ali Elkin
Before making and selling honey, maple syrup and skincare products, Rich Focht was working in the quality assurance division of the Department of Defense. The founder of Hummingbird Ranch says his first and second careers are not as different as they would seem. Whether a product is being manufactured by a major security contractor or by a home-based beekeeper, the process of making it should be consistent, he says.
After retiring, Focht began making maple syrup in the winter in Clinton Corners, NY and soon began looking for a pursuit for the warmer months. "I got a book on beekeeping," Focht said. "I read the book and ordered the bees."
Setting up that first hive, Focht had his friend (and now business partner) Debbie Trapletti yell instructions from a car while clutching a cell phone in case he needed an ambulance.
That was almost ten years ago. Focht now has between 100 and 180 hives, which he keeps on surrounding farms. In return for the space, his neighbors get free pollination. Similarly, the maple trees Focht taps sit on other people's land, but they get a tax break for an agricultural use.
In addition to making honey and syrup, Hummingbird Ranch also makes fruit-infused honeys and creamed honey and has a line of skincare products that use the left-behind beeswax. Focht said he learned how to make those by reading another book, this one on herbology. "I just circled every recipe that had beeswax in it and those that came out really well are the ones we sell," Focht said.
One of this best sellers, though, was actually his own recipe. Focht knew that bees produce propolis, a kind of hive sealant with antimicrobial properties. When a mouse or other animal winds up in a hive, the bees kill it, then produce propolis to cover the body with. Focht added it into one of his skin creams, and the result was Hummingbird Ranch's popular healing cream. "I sell it all over the country and I don't advertise it anywhere," Focht said.
Read about food and healthy eating in Eats of Eden, sponsored by the Nyack Farmer's Market. Hosted by the and the Chamber Of Commerce Of The Nyacks, The Nyack Farmer's Market is open Thursdays from 8a-2p in the Riverspace parking lot at the corner of Main St and Artopee in Nyack, NY from May through late November.