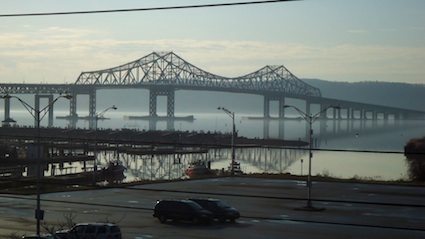 Albany, Sept 19 — A committee of artists and architects with engineering and bridge building experience will select a final design for a new Tappan Zee Bridge along with community leaders who will represent South Nyack, Tarrytown, Rockland and Westchester County elected officials.
New York State Governor Andrew Cuomo selected four artists and industry experts to lead the committee:
Jeffrey Koons, a fellow of the American Academy of Arts and Sciences
Richard Meier, a Pritzker Prize winning architect and Gold Medal awardee for architecture from the Academy of Arts and Letters
Thomas P. Campbell, Director of the Metropolitan Museum of Art
Keith Brownlie, an internationally acclaimed bridge designer
The winning design will be chosen from the three design-build teams who submitted proposals in July. Criteria will include quality design and long-term viability to meet the needs of the regional and national transportation system. According to a press release issued by the governor's office, these criteria include:
Bridge structure and design
Ability to meet strict environmental requirements
Construction plan
Bridge lifespan
Traffic management plan
Geotechnical for bridge foundations
Investment in future transit options, including BRT and rail
Ability to work collaboratively with community and local stakeholders
History and experience of design-build team
Local community representatives on the committee include Tom Vanderbeek, representing Rockland County Executive Scott Vanderhoef. "I am honored to be involved in this very important project and look forward to working with the committee to help select the contractor,'€ said Vanderbeek, who is Rockland County's Commissioner of Planning & Public Transportation. A licensed professional engineer specializing in civil and environmental engineering, Vanderbeek has a B.S. in Civil Engineering from Princeton University. In his role working for Rockland County, he has worked with the U.S. Army Corps of Engineers, the NYS Department of Environmental Conservation and the towns and villages in the county.
Richard L. Kohlhausen is the South Nyack representative, appointed by Mayor Tish Dubow. Kohlhausen is a member of the SUNY Rockland Community College Board of Trustees and President of the Board of Nyack Hospital. Kohlhausen has a bachelor's degree in chemical engineering from New York University and an M.B.A. from Iona College, New York.
See also: Governor Cuomo Announces Team of Artists, Technical Experts, and Community Leaders to Help Select Final Bridge Design for Tappan Zee Project, 9/19/2012 press release from governor.ny.gov