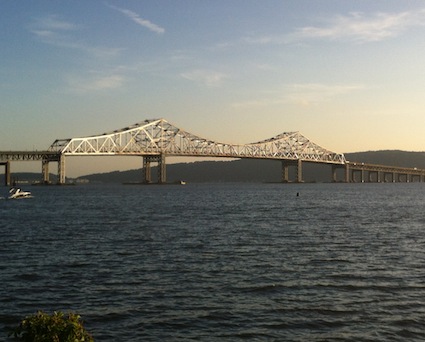 Albany Sept 25 –The Federal Highway Administration has given a green light to Governor Andrew Cuomo's plan to build a new Tappan Zee Bridge. The only remaining hurdles are figuring out how to pay for it and navigating a possible lawsuit from an environmental group.
With no Federal money available to pay for construction, New York State will have to finance  TZB II by itself. Earlier this Summer, the governor's staff predicted tolls would be almost triple jumping from $5 today to $14 when the new bridge opens with some independent analysis saying it could go as high as $16. The governor says he's going to try to hold down the toll increase, but its not clear how he would do that.
"In less than a year, the project to replace the Tappan Zee Bridge was expedited by President Obama, public hearings were held, the environmental review process was completed, and now the federal government has approved the plan," Cuomo said. "With this major milestone, New York once again is demonstrating that we can make government work efficiently and effectively for the people of the state, and we can take a large step toward building a safer, better and more reliable bridge."
But not everyone is on board. According to Newsday, Riverkeeper may take New York State to court to protect endangered species like the Atlantic Sturgeon whose habitat will be damaged by dredging and pile driving during construction. "If the state does not make meaningful changes to reduce the project's environmental impact in the next few months, Riverkeeper will go to court," said Phillip Musegaas, Program Director at Riverkeeper.
The governor's office refuted environmental concerns saying the project is now good to go. Last month, the Final Environmental Impact Statement (FEIS) included requirements for mitigating environmental concerns raised by Tappan Zee Bridge construction. Among the safe guards mandated in the FEIS were "bubble curtains" to protect fish from the acoustic effects of pile driving and limits on dredging activity to avoid peak fish migration and spawning. A  National Marine and Fish Services approved species observer will be present during dredging to ensure that any sturgeon captured are documented and released. And for the river's above the water neighbors, noise and air quality monitors will be installed along with 24-hour video cameras which the public can view online to measure construction noise and air quality.
In August, the three remaining holdouts — the county executives in Rockland, Westchester and Putnum — agreed to let the plan move forward on the condition that Governor Cuomo agreed to form a committee to take a serious look at expanding mass transit could use the new Tappan Zee Bridge.
Three local elected leaders, two of which were previously critical of the governor's approach, endorsed the plan on Tuesday. "Today's signing is a hugely important step on the road to better transportation options for residents of Westchester and Rockland Counties," said Congresswoman Nita Lowey (D-Westchester/Rockland).  "I commend Governor Cuomo for issuing this plan that will ensure the right environmental protections are put in place and make certain this project remains transparent as we work to rebuild a safer, stronger bridge for future generations to enjoy," said NYS Senator David Carlucci (D-Rockland). "Moving forward, working with the river village communities, this will provide economic opportunities, while safeguarding the environmental impacts on the community and our precious Hudson River," said Assemblywoman Ellen Jaffee (D-Suffern).
See also: