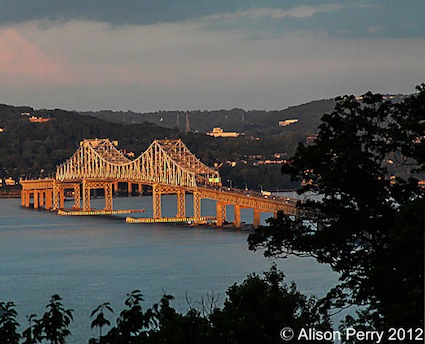 by Tal Axelrod
Last week, New York State received approval from the Federal Highway Administration to build a new Tappan Zee Bridge when Washington said the TZB's Final Environmental Impact Statement (FEIS) was good to go. Although officials sought support from the Feds, they never bothered to ask the fish. Here's what one of their representatives had to say in this "POV under the Zee."
Hello, neighbors. We share a beautiful place to live. You enjoy the majestic Hudson when you see it, sail on it, or swim in it. I also swim in it as well, but my view is far different than yours.
I'm writing to express my concerns about how the new Tappan Zee Bridge will impact me and my neighbors. Ever since the Industrial Revolution came to the Lower Hudson Valley, my community has been hit hard with loads of pollution. The thought of any construction going on in the area makes my gills quiver since it takes so long and is potentially damaging to my surroundings, only compounding the pollution problem. My name is Seabasstian Fish and I live in the Hudson River right near the Tappan Zee Bridge.
My friends and I have picked up some chatter from above about a new bridge. And boy do we need a new one. Regardless of how it looks above the water, the deterioration from below is unbelievable. Build if you must but please build the right way.
A concern that we share with humans, especially those at the Quay and Salisbury Point apartments, is the inevitable loud sounds that go along with such an endeavor. In fact, it's an even bigger concern for us since sound travels 4.3 times faster under water than it does on land. I've seen firsthand the effects of noise on fish. My friend Gill was happy as a clam during last Spring's piling tests for a new bridge across the Hudson. But my good friend Bait was killed instantly during a different, intense project. I fear that if the noise from the construction of the new bridge isn't controlled, more fish may end up as Bait — did.
But we fish have unique concerns of our own including the possible destruction of our habitat. Whenever a massive construction project takes place on or close to a river, it is inevitable that some fishes' homes will be destroyed. My good friend Sergei the sturgeon, already a member of an endangered species, is concerned about how the construction will impact his kind.
We fish aren't without friends! Here are a few kind words that some of you said about us which might help you understand our concerns. — SF
'€œBridge Construction will involve pile driving of massive (up to 10 feet in diameter) piles as well as dredging a massive construction trench across the entire Hudson River. Pile driving will very likely result in fish kills including endangered Atlantic and shortnose sturgeon. Fish may also be struck and killed by construction vessels or caught in dredge bucket during dredging operations. Dredging will also result in enormous habitat loss in a critical portion of the Hudson River.'€ — Josh Verleun, Staff Attorney and Chief Investigator at Riverkeeper, Inc.
'€œAs we have an already degraded ecological system we could tip it over the edge, jeopardizing any efforts we have made towards any recovery. This section of the river is known to be critical habitat for estuarine-dependent species that move into the river to spawn and then out into the wider Atlantic seaboard. We have moratoriums and protections in place for some of our signature species in severe decline such as shad, Atlantic and Shortnose sturgeon but there are many others that are noted to be in decline such as American eel and tomcod – this is a major disruption to the habitat of all these species.'€ — Margie Turrin, Education Coordinator at Lamont-Doherty Earth Observatory
When your species is homeless, you sometimes move down by the river. If you live in the river and lose your home, your options are limited.
The nice people at Riverkeeper, to whom we look up  (to be honest, we look up to just about everyone who has feet instead of fins) say building the new Tappan Zee Bridge will require some serious pile driving '€" with piles up to 10 feet in diameter. There will be dredging too, creating a massive construction trench across the entire Hudson River. They say there will be big fish kills including the Atlantic and shortnose sturgeon. Fish may also be struck and killed by construction vessels or caught in dredge bucket. You might regard Fishkill as a quaint village near Beacon, NY. But those words have a more ominous meaning to us.
I don't want you to think I'm the only bad fish in the sea complaining about something that only affects me. According to the people at Columbia University's Lamont-Doherty Earth Observatory, the proposed dredging to build a new TZB will cover about 175 acres and disrupt the habitats of as many as 16 different species of fish.
Another major concern is the timing of the project. I don't think this area of the Hudson can handle an extended period of construction, especially with the damaging effects of the intense sound under water. Riverkeeper wants the bridge builders to limit dredging to a maximum of three months during each year of the project. We like the sound of that.
I'm also worried about the release of harmful sediments during the construction. Pesky factories have polluted a lot of the sediment at the bottom of the river throughout the years with no regard for our communities. Kicking up toxic sediment could worsen the pollution in the Hudson and lead to more fish deaths.
You need a new bridge. We need a safe place to live. Isn't there enough room on the river where we can both find a safe way to live?
Seabasstian Fish's tale of how new bridge construction will affect life "under the zee" was told to Tal Axelrod, who is a freshman at Northwestern University.
 Photo: Tappan Zee Bridge from Oak Hill Cemetery in Nyack. ©2012 Alison Perry
Sources: Lamont-Doherty Earth Observatory, Riverkeeper, Tappan Zee Bridge Project Final Enviornmental Impact Statement