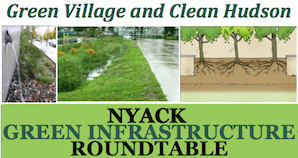 by Jen White, Mayor of the Village of Nyack
Last year we started a committee to promote using green infrastructure on public and private properties for stormwater management. Nyack's Green Infrastructure Roundtable will work to find methods to improve the health of our village, our water system, the Hudson River and to help reduce our recurrent flooding problems.
On Saturday morning September 22 from 9-12, we'll have a kick off meeting at Nyack Village Hall to present an overview of green infrastructure and ways we can expand our green inventory as a community to improve our properties, streets and waterways. We've invited local government, non-profit, environmental, and business leaders to participate as well as the general public.
The process will identify ways to advance green infrastructure through changes or improvements in local policies and programs. Barbara Kendall CPESC, CMS4S, Coordinator of the Hudson River Watershed Alliance will facilitate this meeting, thanks to funding from the NYSDEC Hudson River Estuary Program through the New England Interstate Water Pollution Control Commission. The meeting will be held on the second floor of Nyack Village Hall, 9 North Broadway, Nyack, NY 10960.
We'll also be looking for volunteers to join two subcommittees to review the existing code and recommend changes that promote green infrastructure practices and incorporate incentives.
Not only are these initiatives helpful from an environmental standpoint but their impact on reducing excessive flood waters is substantial. Figuring out ways to incentivize those who are making changes to their properties and buildings will help us all. This a very exciting step for Nyack, and for all of our communities and we really look forward to your participation.
Jen White is the Mayor of Nyack, NY.