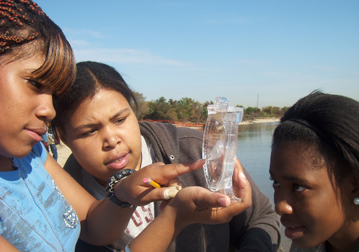 by Kim Martineau
This Thursday, students from all over New York will be getting their hands dirty playing in the mud down by the river. It's all part of the 10th annual A Day in the Life of the Hudson River event sponsored by Columbia University's Lamont-Doherty Earth Observatory in Palisades, NY.
Students will collect and share scientific information from their stretch of the Hudson tidal estuary to provide a snapshot of its health using hands-on field techniques to describe their sites, catch fish and invertebrates (blue crabs, shrimp) in nets, track the river's tides and currents, and examine water chemistry. The '€œDay in the Life'€ event allows students to be scientists for the day by collecting information from their stretch of the river and seeing its connection to the larger ecosystem.
Day in the Life, sponsored by the DEC's Hudson River Estuary Program, engages 3,000 students and educators from more than 60 sites from New York Harbor in Lower Manhattan to Albany's Capital District. Columbia University's Lamont-Doherty Earth Observatory and the National Estuarine Research Reserve and Cornell University New York State Water Resource Institute works with the DEC's Estuary Program to train river educators for each site.
This year's event will bring total participation by students, educators, and volunteers to more than 20,000 since 2003. Armed with seine nets and minnow pots, they've caught, identified and released over 16,000 fish of 53 species, ranging from the abundant Atlantic silverside (3,891 over nine years) to the more elusive summer flounder, white sucker, and spotted hake, each caught only once. Striped bass are the most common species caught, from Manhattan's saltwater piers to Columbia County's freshwater shore. Once in decline, stripers are now abundant on the river thanks in part to DEC restoration efforts.
Students will examine the river's physical and chemical properties with a wide range of equipment, such as a home-made sediment corer assembled from local hardware supplies. High-tech refractometers and simple plastic hydrometers will be used to measure salinity and find the '€œsalt front'€ where freshwater runoff and salty seawater meet. During the relatively dry year of 2007, the salt front pushed as far north as Poughkeepsie, while last year the rains of Hurricane Irene and Tropical Storm Lee flushed the saltwater as far south as Piermont showing us the Hudson's dynamic nature.
This year, Day in the Life will expand beyond the Hudson. In addition to new sites along New York Harbor, there will also be pilot sites on the Mohawk River and south shore of Long Island. Estuary Program Coordinator Fran Dunwell says the Day In The Life program helps to link everything together for participants. '€œStudents get to see firsthand how fish diversity relates to what's going on in their local waterway, that upriver communities connect to downriver ones, and that the watershed and the coast are part of a shared system.'€
'€œBy engaging young people in our communities through study, we are raising awareness of the Hudson River, Sparkill Creek, its complex ecosystem, and the Sparkill Watershed," says New York Assemblywoman Ellen Jaffee. "Encouraging this generation to take an active interest in our precious natural resource, to be good stewards, and to protect the health of our waterways, is a gift these young people will give to future generations.'€
Kim Martineau is a Science Writer in the Media Relations department at Lamont-Doherty Earth Observatory
See also: Snapshot Day at ldeo.columbia.edu
Photo: Day In The Life of the Hudson, Oct 2011. Credit: Lamont Doherty Earth Observatory