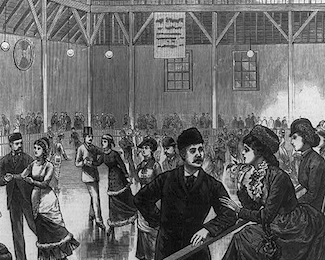 by John Patrick Schutz
Nyack was in an uproar. Residents said their quality of life being ruined by the latest lifestyle trend and changes in the business district. Old respectable businesses were closing to be replaced by gathering places for the young and idle. Occupancy numbers in these dens of depravity frequently exceeded any safe number as more and more revelers flocked to Nyack. The streets downtown were filled with wheeled menaces in odd togs and footwear with little concern for those on foot or in respectable carriages and coaches, and the undercurrent of anxiety all of this brought to the local populace and Nyack had a '€œsituation'€ on its hands. Sound familiar?
Was it bars and bicycles? No. It was roller skates and skating rinks. Seriously.
In the fall of 1884, roller skating fever hit this country. Rinks began popping up all over including several in downtown Nyack. An investor asked the Village Board for permission to use  Voorhis Hall, which occupied the location now held by Turiello's Pizza at the corner of Broadway and Main, as a rink.  But just a week or two before he opened, another entrepreneur opened HIS rink in the Nyack Opera House on the corner of DePew and South Franklin.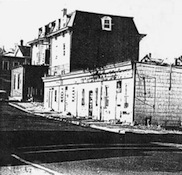 Where was the Nyack Opera House
and Voorhis Hall?
"In 1873 Louis Hoffer built a hall on De Pew near Franklin avenues 40 by 90 feet and with seating capacity for 600 people which he named the Nyack Opera House.
In 1881 Hon Wm Voorhis opened a hall corner on Main Street and Broadway 40 by 100 feet and with seating room for 585 people which he named Voorhis Hall."
— From The History of Rockland County
by Frank Bertangue Green via books.google.com
As if two skating rinks downtown were not adequate enough for the platoons of skaters invading the village, '€œThe Casino,'€ a third rink located further north on Franklin Street, opened in the Fall of 1884. Open seven nights a week, The Casino regularly recorded 700 skaters inside the rink. The success of the first three ventures was followed by a fourth and fifth rink, prompting the New York Times Dec 22, 1884 article about '€œSkatertown.'€
Though the skating craze seemed to travel the length of the Hudson Valley and its industrial towns, cities and villages in no other place did it catch on quite so quickly and with so many rinks '€" let alone the sheer number of skaters coming to the village and partying late into the evening. The fast flying wheeled visitors frequently traumatized locals out on the sidewalks as they whizzed by moving from one venue to the next. '€œPeople here are becoming alarmed," wrote the NYT. "Every time a stranger alights from an incoming train, someone asks with a shudder: '€˜Is that another skating rink man?"€
Live music often accompanied the skating, making Nyack a popular place for professional musicians. That musician-friendly reputation continued through the Edwardian Age, the Jazz Age and up into the 1980s, creating a positive image to offset what many saw as a detrimental late night problem in Nyack's drinking establishments.
During the skating boom, Nyack had even MORE bars, saloons and pubs than we do today. Perhaps our 'ancestors' had to put up with more late night disruptions than we have today. While 21st century residents may complain about the cyclists and the bars, at least they are separate problems: bikers aren't drinking while cycling. Which was NOT the case back in the Gilded Age when those with wheels on their heels made Nyack a scary place after dark!
See also:
Photo Credits: Library of Congress via Suite101, Nyack Library via HVRH.org
John Patrick Schutz is a realtor for Rand Realty in Nyack, NY. You can read his blog posts at AtHomeInNyack.