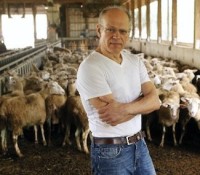 by Donna Schmidt
Mold ripened in a 120 foot underground cave built by the owners, Valley Shepherd's Crema De Blue cheese won second place for cheese from the United States at the American cheese society's annual competition in July, 2012.
There were 1,711 entries.
This tells you a little about how hard Eran Wajswol and his wife Debra Van Sickle work on perfecting all 40 varieties of cheese, many of which are available at the Nyack Farmer's Market. Valley Shepherd is one of the most distinctive artisanal cheese creameries in the country. This couple runs tours in the Spring, Summer and Fall in addition to wine tastings, and 90 minute cheese making classes at least a dozen times a year. At approximately $20 a pound, Wajswol wants to be sure that his consumers understand that he utilizes European methods learned firsthand from Shepherds on many remote mountaintops and that his product is no ordinary curds and whey.
Whether its crema de blue stuffed in dates, numerous varieties carefully placed in artichokes, on top of burgers or even grated on top of pasta at Le Bernadin in New York, Valley Shepherd's cheese has come a very long way. The Creamery sells at 23 farmer's markets, to 200 Chefs and at their store in Long Valley, NJ. They also have a shop in Park Slope Brooklyn, an online store and a soon to be opened place at the Reading Terminal Market in Philadelphia where their chefs are feverishly working on a line of grilled cheese sandwiches. Gorgonzola, brie, corona and turkish apple tea poached pear. Gruyere, pickled green tomato, watercress, jalepeno and barbeque potato chips are just two masterpieces being concocted in their test kitchen. But you will never see Valley Shepherd Creamery Cheese in supermarkets. It takes 600 sheep, 100 goats and 50 cows to make the cheese seven days a week from April to December.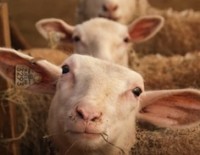 Wajswol and Van Sickle first discussed cheese making while traveling throughout Europe. '€œWe had been traveling for years and always noted the wonderful selection of cheeses in the open air markets of Provence, Tuscany and northern Spain," said Wajswol. The former engineering students decided to give the craft a try after successful first careers.  "So in parallel with learning sheep herding on our own farm, we started learning cheese making European style until we felt confident enough to try our own.'€
Wajswol sells a vast selection of cheese but admits that his perfect cheese plate would be the following: Goat crème with a bit of fig jam (whipped goat chevre), 4 month old CALIFON TOME (cave aged gouda style), 4 month old OLDWICK SHEPHERD (sheep cheese) with quince paste condiment, 4 month old GOTOGETAGOAT (goat gouda), TEWKSBURY (12 yr old gruyere style) with cherry jam condiment, CREMA DE BLUE, some fresh baguette or RAIN CRISP cracker, SAUCISSON SEC charcuterie from TROIS PETTITE or CREMINELLI, COPA from salumeria Biellese and Picholine olives (never pitted).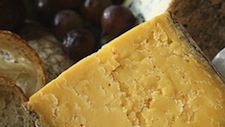 Here's one cheese tip you should try to remember: Use wax paper — never plastic containers — to store your cheese. Wajswol suggests you wrap your cheese in wax paper with plastic on top to store it in the veggie drawer of the refrigerator. When you are ready to serve, throw away the original wrapper, scrape off the mold and always warm the cheese for at least 45 minutes to room temperature before you eat it.
Keep your taste buds out for a few new products coming this year. Goat2 – fruity drinking goat yogurt. Goat Creme- smooth like goat spread and Trioche – a three milk cheese- sheep/cow/goat. All raw and aged for a minimum of 4 months.
Learn more about cheese and the varieties available at ValleyShepherd.com
Read about food and healthy eating in Eats of Eden, sponsored by the Nyack Farmer's Market. Hosted by the and the Chamber Of Commerce Of The Nyacks, The Nyack Farmer's Market is open Thursdays from 8a-2p in the Riverspace parking lot at the corner of Main St and Artopee in Nyack, NY from May through late November.