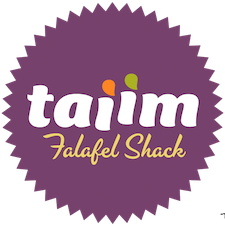 by Ali Elkin
Farmers' Market fans like to think they know their way around a falafel. Zamir Iosepevic is out to prove them wrong.
The Israeli-born lawyer opened Taiim Falafel Shack two years ago in Hastings-on-Hudson where he lives with his family. He now sells his falafel, babaghanouj and ten hummus varieties at the Nyack and Chappaqua Farmers' Markets.
Iosepevic said he opened the shack after sampling too many sub-par falafels dipped in too much inadequate hummus. He wanted to recreate the informal, street-vendor type experience and authentic product that is ubiquitous in Israel, but difficult to find in the U.S.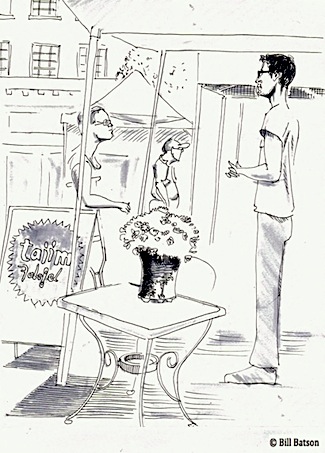 The difference, Iosepevic says, is that he uses dried chickpeas that get soaked overnight and no preservatives, creating a product with which Americans are less familiar.
"Our product needs to be consumed within three days of purchase because we do not add any preservatives," Iosepevic said. "So, it's not like your grocery store Sabra hummus, which can sit in the fridge for a week."
Some of the hummus varieties include basil, garlic and tomato, as well as truffle oil and spicy cilantro.
Iosepevic said he's had some patrons who consider themselves well versed in middle eastern fare say his food tastes different from what they've had in the past. He kindly explains that the people who have prepared their food in the past have been using canned chickpeas and mayonnaise.
At his restaurant, Iosepevic nurtures an informal vibe that goes along with the shack experience. This means putting the chaos of the kitchen on full display. Iosepevic said this adds to the authenticity. "It's an open kitchen, so there's yelling and screaming," he said. "We do it the right way."
The one difference, Iosepevic said, is that in Israel vendors are allowed to put all the condiments and pickles outside for people to pick. "Local health codes prohibit patrons from assembling their meals on Westchester and Rockland sidewalks. Aside from that, Taiim is meant to be every bit the real deal, even if it's something unfamiliar to the clientele.
Read about food and healthy eating in Eats of Eden, sponsored by the Nyack Farmer's Market. Hosted by the and the Chamber Of Commerce Of The Nyacks, The Nyack Farmer's Market is open Thursdays from 8a-2p in the Riverspace parking lot at the corner of Main St and Artopee in Nyack, NY from May through late November.